Child labour is undesirable - Amenowode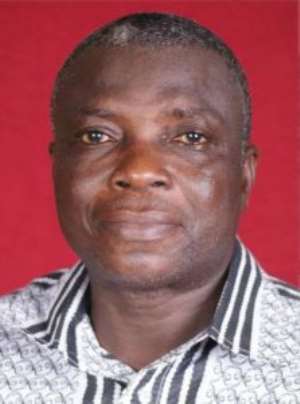 By Benjamin Mensah, GNA
Accra, June 14, GNA - Parliament on Tuesday expressed strong objection to the menace of Child Labour and made a clarion call for more resources to fight and reduce the phenomenon to its barest minimum.
'Mr Speaker, child labour, no matter its form, is undesirable and needs to be eliminated,' Mr Joseph Amenowode, the Chairman of the ECOWAS Parliamentarians against Child Labour, said.
His observation was in a commemorative statement to mark World Day against Child Labour, which fell on June 12, 2016.
Sunday, June 12, marked the 14th annual World Day against Child Labour, according to the International Labour Organisation.
There are still 168 million children in today's workforce. In Ghana, one out of every five children (21 per cent) is estimated to be engaged in child labour.
'This is a breach of the constitutional and fundamental rights of children and a liability to socio-economic development,' Mr Amenowode, who is also the Chair of the Select Committee on Employment, Social Welfare and State Enterprises, said.
Even though poverty is at the core of the problem of Child Labour, there are other contributory factors as ignorance and misconceptions about the practice, inadequacies in the educational system and institutional weaknesses in the application of laws relating to the phenomenon.
Within the legal framework to deal with Child Labour in Ghana, the Children's Act 1998 (Act 560) sets the minimum age for admission of a child to employment at 15 years, 13 for light work and 18 for hazardous work.
Article 28 (2) of the 1992 Constitution of Ghana guarantees that 'every child has the right to be protected from engaging in work that constitutes a threat to his health, education or development.
'These guarantees reflect the growing concern over the employment of children, particularly in activities that are exploitative or otherwise harmful,' Mr Amenowode said, adding that despite other Government interventions, child labour 'persists and is endemic in many communities, especially deprived areas.'
He announced that the National Plan of Action 1 (NPA1) against Child Labour is under review and a new policy (NPA2:2016-2020) is designed to build on the gains made.
Mr Isaac Osei, the MP for Subin and a former Ghana High Commissioner in London, made a distinction between domestic work and child labour, recalling that while he served in Britain he had queried why some people had regarded using children for domestic work as child labour.
He said there was the need to protect children from hazardous work, noting that some children were sent to quarries to crack stones with adverse implications on their eyes.
Mr Osei said some children were sent from the Central Region to the Volta Lake area in the Volta Region and forced to dive to retrieve nets.
He said others from the northern sector of Ghana were brought to the South to become head porters and sleep under very terrible conditions with the young women among them becoming prey to some adult men.
Mr Haruna Iddrisu, the Minister of Employment and Labour Relations and MP for Tamale South, said it was a fact that child labour existed in Ghana, adding that despite legislation against the practice, enforcement remained a challenge.
He called on the Ghana Police Service to enhance their identification, investigation and prosecution of persons engaged in child labour.
Mr Frank Annoh Dompreh, the MP for Nsawam Adoagyiri, called on the Ministry of Local Government and Rural Development to liase with the local assemblies in dealing with the situation.
Hajia Laadi Ayii Ayamba, the MP for Pusiga, said more education was needed to check the menace.
GNA