'Lion' Forced  Out Of Cage … For Contempt Date With Court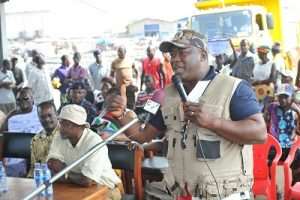 By Maame Agyeiwaa Agyei
([email protected])
The Greater Accra Regional Minister, Nii Laryea Afotey Agbo, who goes by the nickname 'Lion', ran a 'hundred metre race' to an Accra High Court, presided over by Justice Naa Adoley Azu yesterday,  to avoid the wrath of the judge, who was furious about the absence of the minister from court.
The Ga Traditional Council has cited the Greater Accra Minister for contempt and was, therefore, billed to appear in court yesterday, but when the case was called, the state attorney representing him told the court that Mr. Afoety Agbo was on his way to court, when he was called back because of the Indian Prime Minister's visit to Ghana.
The explanation and subsequent apology on behalf of the minister by the state attorney did not, however, go down well with the judge who insisted that the presence of the Indian Head of State cannot be an excuse for him to absent himself from court.
According to the judge, officials from the Ga Traditional Council have been coming to court all the time, while he (Mr. Afotey Agbo) has refused to show up. She added that, she was also a Ga by tribe and was unhappy how things are going with the elders being present in court all the time.
Justice Naa Adoley Azu, therefore, instructed the state attorney to make sure the Regional Minister appears before the court immediately and then stood down the case, awaiting the arrival of the minister.
Less than an hour after the judge had given the orders; the Greater Accra Regional Minister appeared in court for the first time since the case started. The court had previously issued a bench warrant for the arrest of the Minister after he consistently failed to show up in court.
Brief Background
Mr. Afotey Agbo, together with six others, were cited  for contempt for flouting an injunction application placed on the Homowo celebration and subsequent comments made by Mr. AfoteyAgbo that, Adama Latse is the legitimate Ga Mantse.
The contempt charged was filed by Dr. Nii Tetteh Kwei II, Dsaasetse and kingmaker of the Ga Dzaase Paramount Stool.
Others cited in the contempt case are the Gbese Mantse, Nii Ayi Bonte, also known as Thomas Okine, Adama Latse, Yaote Otoga, David Tackie Commey and Nii Bi Anyah, alias "Fingers."