Ghana High Commission Congratulates Dentaa Amoateng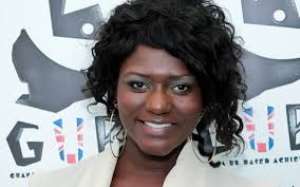 Dentaa Amoateng
Ghana's High Commissioner to the United Kingdom, Victor Emmanuel Smith has, on behalf of the Government and people of Ghana congratulated Ms. Dentaa Amoateng, who has been awarded MBE by the British Monarch during Her Majesty Queen Elizabeth's 90th Birthday celebration.
The MBE award which stands for the Most Excellent Order of the British Empire has been given to Dentaa Amoateng in recognition of her services to the UK-African Diapora. Dentaa is the Chief Executive Officer of GUBA a Ghana UK-based Achievement Awards organisation, an NGO, which gives recognition to achievements by persons who contribute positively towards the image-building of Ghana.
In a congratulatory message sent to Dentaa, the High Commissioner indicated that the award underscored her dedication, commitment, hard work and outstanding services to the UK-Africa Diaspora,
The message concludes as follows:
"The people of Ghana are proud of your achievement and honour to your motherland by the conferment of the prestigious MBE award. We applaud your role as a coach, entrepreneur, mentor, producer, a manager, artist, social worker, a philanthropist and above all, an inspiration to many, especially the UK Diaspora.
We are convinced that this award will spur you on to greater heights as you seek to take GUBA to greater heights."
Ghana High Commission London
June, 2016