Four days flooding leaves five dead in Central region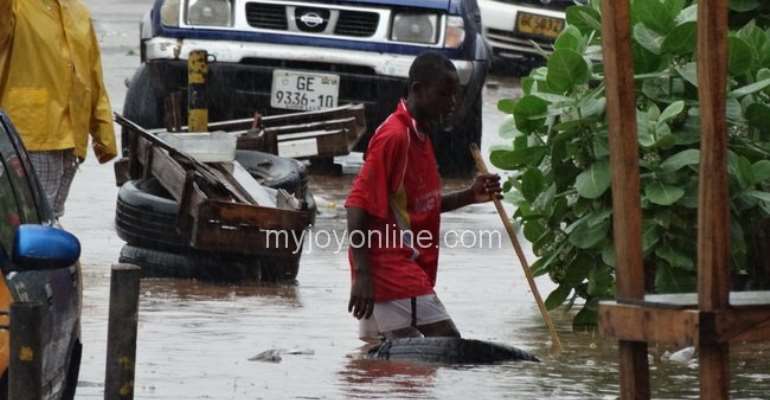 Four days of persistent rains in the Central region has resulted in flooding that killed five persons including an 8-year old girl.
A man was electrocuted, three were killed after a building collapsed on them and another was washed away during the record level torrent.
Joy News' Central regional correspondent Richard Kwadwo Nyarko explained on Joy FM's Super Morning Show Monday, it has been raining heavily since the showers began last week Thursday.
The rains were accompanied by strong winds, thunderstorms and lightning, forcing schools to close down.
Tragedy first hit Amamoma, a community in cape coast near the University of Cape Coast (UCC), where a man stepped on a live electricity cable that had fallen into flood waters. He was electrocuted instantly.
At Kwahenekrom, days of rains last Saturday weakened a building which eventually collapsed on two women and a school girl sitting infront of the house.
On the same day at Atabadze, high velocity flood waters dragged a man away while he attempted wading through the flood waters to safety.
The rains subsided Monday morning leaving in their wake a devastation of properties and a severe disruption in transport services.
Workers are still unsure hwhether or not to go to work as many residents of several communities remain suspicious that the danger is not over.
The Meteorological Agency has warned that it could be raining all week as Ghana's rain season hits top gear.
The Kwame Nkrumah Circle, a business hub in the national capital, Accra was worst hit by flooding last week Thursday.
The rains have been very intermittent since last Wednesday.
Story by Ghana | Myjoyonline.com|Edwin Appiah