CHAG seeks sustainable Health Funding solutions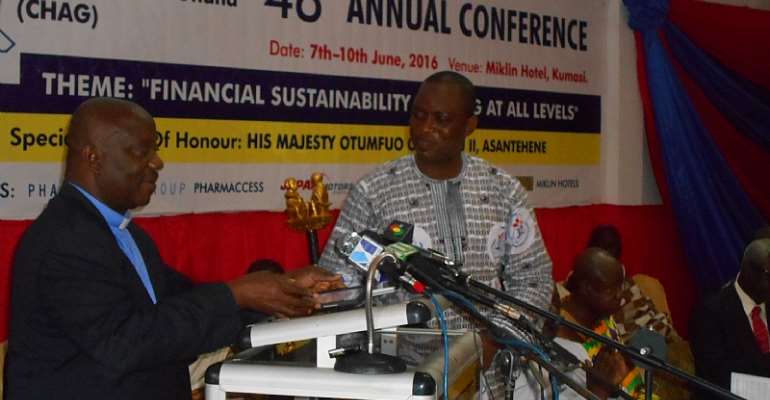 Amidst the rare funding gaps challenges confronting the health sector, the Christian Health Association of Ghana (CHAG), has shown its readiness to find sustainable means of health funding.
Speakers at a two-day 48th Annual Conference of the Association in Kumasi, have underscored the need to look at ways of sustainable means of health funding in Ghana.
The Conference which brought together players in Health care industry and member institutions of CHAG spread throughout the country, was themed: Financial Sustainability of CHAG at all Levels: How Can We Do Things Differently?
The Executive Director of CHAG, Mr. Peter K. Yeboah, has expressed the need for all stakeholders of CHAG to contemplate feasible local action to wean themselves from complaints and lamentations, and find lasting means of health funding.
"It is time to explore prospects and potentials for sustainable quality and compassionate health care in the midst of these challenges," he said, reiterating the need for CHAG to consolidate and expand her gains.
He re-echoed the essence for a refocused passion that reflects the needs of clients and a renewed presence and rejuvenated purpose that inspires clients, staff and community to push for more.
To develop financial sustainability in institutions, Rev. Dr. Fred Deegbe, former General Secretary of Christian Council of Ghana, suggested the development of a strategic and financial plans to guide the running of the institutions.
He urged CHAG and its affiliate institutions to develop income diversification, sound financial administration and sound financial reporting regime, including periodic audit and project reports.
Rev. Deegbe in a keynote address, charged facilities to develop business plans that will guide their growth, and entreated them to put in place effective team management to enable them render quality service to their clients.
Similarly, Prof. Stephen Addai, former Rector of GIMPA, who expressed worry at the leakages in health systems, called on leaders at health facilities and institutions to get their financial acts correct, establish a rigorous human resource systems and ensure efficiencies in the system in place.
Commenting on the indebtedness of the National Health Insurance Scheme (NHIS) to CHAG facilities, Prof Addai, question why CHAG was not having its insurance scheme, after pioneering the establishment of the National Health Insurance Scheme.
He stated the need for the infusion of creativity and innovation in solving challenges in CHAG member institutions, asking the body to do full costing of every service they rendered.
Mr. John Alexander Ackon, Asante Regional Minster, said financial sustainability involved an inward evaluations of expenditure, investment of idle funds and the running of an effective financial management systems.
He hinted that the National Health Insurance Authority (NHIA) has settled a backlog of arrears of claims owed health facilities up to November 2015, and added that the Ministry of Finance has also given clearance for Ghana Health Service to employ more staff, who will soon be posted to some CHAG facilities.
He advised CHAG to promote awareness of her existences and interest people through public health campaign programmes for them to practice preventive and healthy living lifestyles.
The Deputy Minister for Health, Dr. Victor Bampoe, touched on the challenges the NHIS was facing, and noted that "we design a system which has become a victim of its success," but called on all stakeholders including CHAG to work together as partners to address the challenges bedevilling the scheme.
Barima Sarfo Tweneboah Kodua, Paramount Chief of Kumawu, who represented the Asantehene, commended CHAG for the good works and said "we all have a duty to protect and preserve its legacy".
While calling for alternative sources of health funding, the Paramount Chief also appealed to the Government to reconsider the withdrawal of its support for service provision (subsidies for utilities) and suspend the 15% it was charging the facilities.
Mr. Nathaniel Otoo, Acting Executive Secretary of NHIA, who spoke on NHIS Sustainability: A Shared Responsibility; entreated those handling the processing of NHIS claim forms at health facilities, to exercise caution in the data entry in order to avoid mistakes.
Other presenters at the two-day Conference included Mr. Zanu Dassah, who treated the topic: Basic Legal Concepts for Health Managers, and Dr. Chris Atim who handled the topic: Financial Sustainability of CHAG at all Levels; What Can We Do Differently?
CHAG is a network of Christian Health Service Providers made of 291 Health Facilities and Training Intuitions from 25 Church Denominations, established in 1967.
With a core mission to Jesus Christ's healing ministry, CHAG member institutions, mostly located in remote areas, have over the years demonstrated the commitment to provide holistic health service to all. It also seek partnership with all stakeholder including Government, development partners, local collaborators and communities within which their services are found.
*The dignitaries and participants at the Conference.
By Kwesi Yirenkyi Boateng