Child Marriage Campaign Will Advance Youth In Africa -Lordina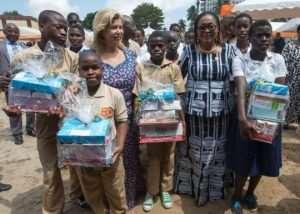 First Lady Mrs Lordina Mahama says the success of the 'Continental All-In' and the 'Ending Child Marriage campaigns recently launched in Ghana would mark a significant advancement of the African youth.
The two key campaigns were launched by the Organisation of African First Ladies Against HIV and AIDS (OAFLA), in Accra at the 7th Africa Conference on Sexual Health and Rights hosted by the First Lady, who is the Chairperson of the Organisation, in Ghana.
"These two interventions are very important to me, personally, and the Organisation of African First Ladies Against HIV and AIDS…the success of these campaigns would mark a significant advancement in empowerment of our youth and give them greater control of their own reproductive health", Mrs Mahama said in Abidjan, Cote d'Ivoire during a recent state visit to that country.
The 'Continental All-In campaign is a United Continental Adolescents initiative to reverse the negative trends in HIV among those from 10 to 19 years while the "Ending Child Marriage campaign" is aimed at ending child marriage by means of supporting and advocating legal and policy actions for the protection and promotion of human rights, by mobilising continental awareness of the adverse socio-economic impact of child marriage, among other strategies.
Speaking as a guest of honour at the 50th anniversary celebration of College Moderne de Cocody in Abidjan, Mrs Mahama thanked her Ivorian Counterpart, Mrs Dominique Ouattara for joining her in Accra together with other African First Ladies, to launch the two critical campaigns that have so much importance on the lives of youth of Africa.
Mrs Mahama said the education and well-being of every child is paramount to her not just because she is a mother, but because an important part of the work she does under her Lordina Foundation is related to education.
"We facilitate the grant of scholarships to brilliant but poor students to study both at home and abroad, and we also facilitate improvement of school infrastructure in deprived communities," she noted.
She commended the School for the anniversary and urged the students to take their studies seriously, saying: "We now live in a global world where knowledge is wealth. Take the opportunity whilst still in school to come out with high grades so you can mature to be good citizens and lead a successful life."
"Fifty years in the life of an institution is an important landmark, and deserves to be celebrated. As you enjoy the day, it is appropriate that you take stock of how far you have come and how far more you have to travel," she said.
She told the students that the future poses a tremendous challenge to them, therefore, as they have shown their thirst for knowledge, the spirit to succeed and the will to accomplish their endeavours, they should let each year of learning be a step "as you climb up the ladder of success in your lives".
Touching on the relationship between Ghana and Cote d'Ivoire, Mrs Mahama said the two countries are historically, economically and culturally linked together but it is the boundaries imposed by colonial experience that divide the two into different countries with different official languages.
She therefore urged the people in both countries to accelerate the process of regional integration by continuing to trade with one another across the borders as the political leaders work very hard to promote the integration.
"We cannot have a paradise on one side of the border and have poverty on the other side. It is imperative on our two countries that we promote the welfare of our people on both sides of our common border. Bringing our countries together will be a win-win for all of us", she said.
GNA