Ethiopian Airline To Support Young African Women Congress (YAWC) 2016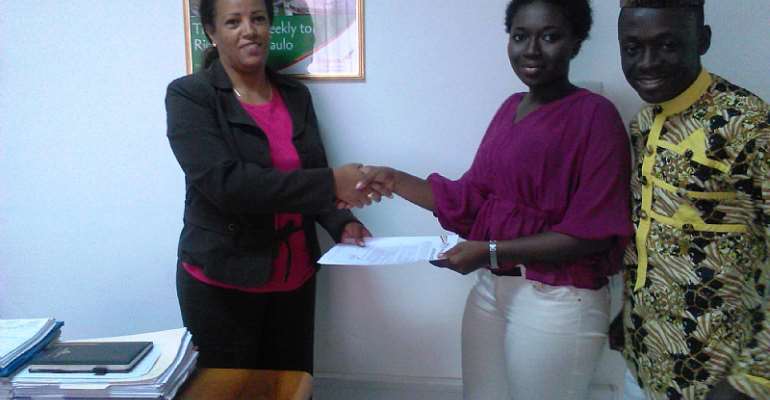 A Memorandum of Understanding (MOU) was signed between ExLA Group and Ethiopian Airlines in a short ceremony in Accra. According to the agreement, Ethiopian Airlines will be the official carriers of delegates and Speakers from other parts of the world to the Young African Women Congress (YAWC) 2016 which is scheduled for Monday 4th- Friday 8th July, 2016 in Accra – Ghana, under the theme, "The Modern Woman Leader: Revising the Status Quo",
Mrs Genet W. L. Michael, Area Manager for Ethiopian Airlines, – Ghana expressed her company's delight to partner ExLA Group for this Pan African Women Agenda. She emphasized her company's commitment and readiness to convey all International Speakers and Continental delegates to and from the Congress. She reiterated that Ethiopian Airlines as a global brand fully subscribe to the SDG Goal 5 and deem it necessary to partner ExLA Group in championing Women Empowerment especially on the African Continent.
Mr. Daniel Osei Tuffuor, Executive Director of ExLA Group warmly welcomed the partnership with Ethiopian Airlines. He noted that, it is good news to the ExLA Group Gender Programme (EGGP) as the Airline Company has committed to a very critical aspect of the congress. This is due to the fact that, ExLA Group will be bringing 20 international and continental speakers as well as 150 young African women to participate in the congress . "It is good that Ethiopian Airlines has pledged to facilitate all their flight bookings, sign in and sign out, and guarantee their safety and convenience to and from the congress". He stated.
Mrs. Genet Michael who has been slated as a speaker for the congress confirmed her full and active participation in the congress and further assured that, as part of its partnership packages, Ethiopian airlines will offer a 10% discount on tickets to all YAWC delegates from abroad.
Mr. Osei Tuffuor in his concluding remarks invited all major stakeholders to partner ExLA Group in attaining the objectives set out for the YAWC 2016 which is a local action for attaining SDG Goal 5. He also hinted that, delegate registration is ongoing on the YAWC Website ( www.yawcafrica.org ) and therefore encouraged Young African Women to register.