ECG Can Work Devoid Of Political Interference — Former Deputy Energy Minister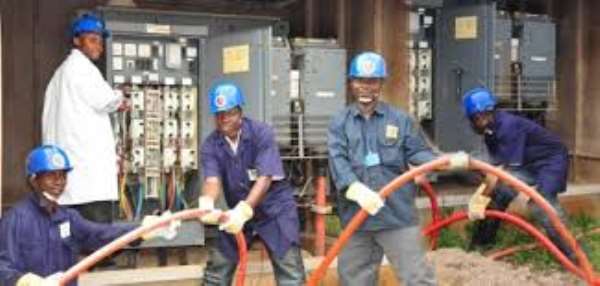 File Photo
Former Deputy Energy Minister in the erstwhile President John Agyekum Kuffour administration, Hon. Kwame Ampofo Twumasi has stated that the Electricity Company of Ghana can work efficiently devoid of political interference.
Hon. Ampofo Twumasi commenting on the privatization of the company on Ark In The Morning with Kwabena Obeng Akrofi said ECG can be strong and vibrant if debts owned by the state is paid.
He said debts owned by ECG require to be paid before it can be privatized.
"ECG can work far more efficiently if all the debts are paid. Political interference is causing them," he stated.
The Former Deputy Energy Minister called on government to put security measures in place to monitor actions of workers aside transmission loses.
"Even if they ECG is given to these foreigners, it is Ghanaians who will be the revenue collectors…so what they government needs to do is to fight against corruption practices perpetrated by some of the workers of the company. We can decrease the number of cheating or corruption if we made up our mind to. Corruption is everywhere and even in the private sector but I think we need to more."
Hon. Kwame Ampofo Twumasi advised against politicization of this issue at hand which is of national interest.
However, Minister of Finance Seth Terkper has assured that government will follow through its plans of allowing private participation in some aspect of the Electricity Company of Ghana (ECG).
According to him the decision is a well thought through one by government and he contends that it will inure to the benefit of the nation.
He explained that the move is to ensure that ECG and the Northern Electricity Distribution Company (NEDCo) are in "strong position[s]."