Deans backs Coetzee to transform Springboks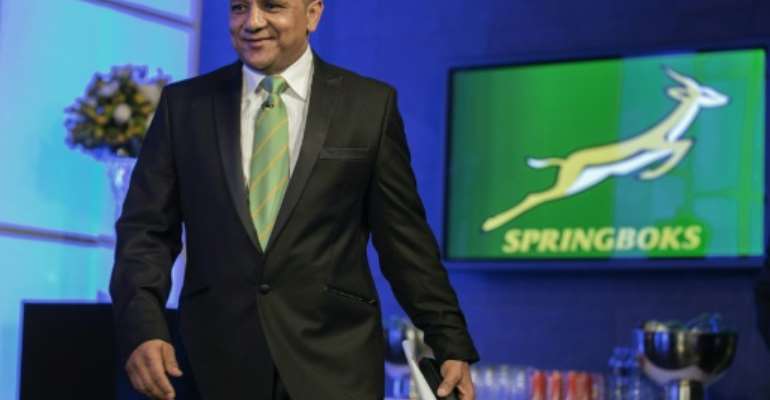 London (AFP) - Robbie Deans believes new South Africa coach Allister Coetzee will transform both the composition of the South Africa side and the Springboks' playing style.
Coetzee's first Test as South Africa coach will be against Ireland in Cape Town on Saturday.
Former Australia boss Deans will be keeping a close eye on South Africa's progress over the next few months as he is now the coach of the invitational Barbarians team that will play the Springboks in the Killik Cup match at London's Wembley Stadium on November 5.
Deans, a former New Zealand full-back, has spent the bulk of his rugby career in countries where winning is just about the only thing that matters.
The same has often been said of South Africa, historically one of rugby union's superpowers along with New Zealand, the reigning world champions.
But the big difference in South Africa is that racial questions have long been a factor.
In the apartheid era, Springbok selection was largely a matter of picking the best white players available.
But now South African rugby officials and the South African sports ministry have agreed that half the 23-man matchday squad at the 2019 World Cup in Japan must be non-white.
The government wants the hugely popular Springboks to better reflect the population of a country which is 90 percent black.
"He's very experienced and he knows the terrain, and those are the critical ingredients," said former Crusaders chief Deans of Coetzee in a Barbarians statement issued Tuesday.
"He understands the (transformation) demands."
Coetzee, who in 2001 became the first black coach of a South African provincial side, included five black players in his starting XV to play Ireland announced Thursday having replaced Heyneke Meyer after the former Springbok coach stood down following last year's World Cup.
Questions regarding 'transformation' are a unique issue for South Africa among leading rugby nations.
They have long proved a thorny topic, with debates over whether certain players have been chosen on merit.
But what is beyond dispute is that there is now an increasingly large pool of non-white players available for Test selection.
- 'Talent cluster' -
As well as racial transformation, Coetzee is set to overhaul the Springboks' playing style.
South Africa have long been renowned for an aggressive, forward-dominated game backed up by accurate field-kicking.
But there is a view that such typically 'Afrikaans rugby' won't be enough if South Africa, who finished third at last year's World Cup in England following a shock defeat by Japan in their opening match, are to dethrone New Zealand in 2019.
"Back division-wise they (South Africa) have got a rare cluster of talent," said Deans.
"They have to use it unless they're happy being No.3 or No.2 (in the world) forever."
"If you look at the game that the franchises are playing, they're broadening their approach and that will come through to the national level in time.
"That's important because it's very difficult to change the way a national team plays significantly from the day-to-day experience of club rugby."
The Springboks now boast notable attacking threats in full-back Willie le Rous and centres Damian de Allende and Jesse Kriel.
Deans who coached Panasonic Wild Knights to successive Top League titles in Japan in 2015 and 2016, added: "I've watched from a distance the emergence of Damian de Allende and more closely in Japan.
"He's clearly a bloke who has the potential to be world-class. Kriel outside him likewise.
"Willie le Roux was also in Japan last year and he's a rare talent.
"Le Roux's got anticipation that I haven't seen in many players."
"There's a lot of attacking potential in that group."