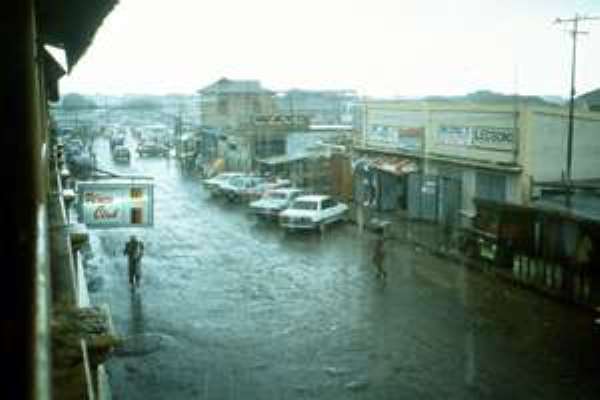 A rainstorm which swept across parts of the Bole District on Boxing Day has rendered over 150 persons homeless in Tinga, near Bole, destroying properties valued at several millions of cedis.
The Bole District Chief Executive, Alhaji Sulemana Adams Achanso who visited the area with other members of the District Disaster Management Committee to assess the extent of damage, was conducted round the community by the district NADMO officer, Mr. Joseph Jandu.
The team inspected over 45 houses, including Simpuayiri Primary School, which were ripped off by the rainstorm, and were informed that most of the victims were putting up with friends and relatives in congested rooms, but that, some of the well-to-do victims were hurriedly re-roofing their houses to avert any CSM outbreak in the area.
Other items destroyed included several bags of maize, cassava, yams, 15 foam matresses, furniture, sewing machines, bicycles, TV stands, electric fans and tape recorders.
In one of the most affected houses, a 60-year-old victim, Kwame Kraah, informed the disaster committee that the roofs of nine of his rooms were ripped off by the storm, and that, he had lost 50 tubers of yams valued at ¢300,000 and all his children's school textbooks, and uniform, and a cash of ¢500,000 he had hidden in the ceiling.
According to Mr. Kraah, there were no casualties as most of the people were celebrating the Boxing Day at the market place when the incident occurred and appealed to the government to support them with relief and building materials to resettle.
Addressing the victims later, the DCE, Alhaji Sulemana Adams Achanso, expressed concern about the rate at which trees and the vegetation, which would have served as wind breaks, were destroyed by settler commercial charcoal burners in the area, and reminded them about the ban on commercial charcoal burning by the Bole District Assembly in the district.
He warned that the assembly would start instituting hash measures to enforce the ban and that any one caught felling trees for charcoal will be ruthlessly punished.
He advised the people to save all their moneys at the bank, urging them to plant trees, and promised to appeal to the government for assistance to resettle the victims.
The District Co-ordinator for NADMO, Mr. Jandu, also assured the people that his outfit was prepared to assist all interested persons with seedlings to start tree planting to replace all the lost trees.
The outfit was further liaising with the Ministry of Health, to embark on health talks to educate the people to keep the surroundings clean to combat some of preventable diseases.
He advised the people against sleeping in congested rooms to avoid CSM outbreak this year, and keeping dead bodies, several days before burial.