7 June 2016
|
Diaspora (Italy)
Nana Addo Given A Rousing Welcome In Italy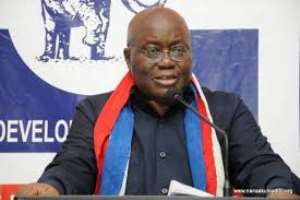 Supporters of the New Patriotic Party (NPP) in Italy gave its flagbearer, Nana Addo Dankwa Akufo-Addo, a rousing welcome when he met them at a meeting in the Italian northern city Modena.
He was mobbed and virtually unseen as he arrived in the company of Italian policemen at the venue of the meeting with supporters chanting party slogans and dancing to tunes of Ghana music in his name.
When he finally took his seat, accompanied by his wife Rebecca and some party functionaries, the flagbearer of the NPP delivered a 20-minute speech in which he reiterated his earlier statements and called on Ghanaians to support him to change Ghana. He said the NPP is preparing itself with the battle ahead of Ghana's elections. "Electoral areas, constituencies, regional and national campaign committees have been formed across the country. We have selected 273 out of the 275 Parliamentary candidates for the election as I speak", he told his audience and went on: "We have begun training all our executives both regional and constituencies executives, we will include also all 29,000 polling station executives and by mid-July the Party will be fully equipped with the task ahead of the elections."
Nana Addo further said the Party has formed campaign sector committees to provide and articulate its messages and gather materials for its manifesto. "There is the important message that we all agreed upon and want Ghanaians to hear, that we are going to reduce electricity tariffs when we come into office, 'no ifs no buts', we are going to reduce the tariffs to give relief to our citizens and businesses." He again pointed out it has become clear President John Dramani Mahama cannot help Ghanaians. "When ex-President Kufour left office in 2009 our economy in Ghana was growing at 8.4% that is without oil, even though it was under his government that oil was discovered in commercial quantities. His government never received one penny revenue yet he managed the economy of Ghana in a way it was growing at 8.4%."
The three times flagbearer of the New Patriotic Party further gave 4 reasons why he thinks the governing party in Ghana, the National Democratic Party (NDC) under President Mahama, cannot help Ghanaians. He said: "In 2012 , he informed us under the NDC manifesto he was going to grow our economy at an average rate of 8% per year. Last year it was 3.9% Two: He promised us in their manifesto we are going to get single digit inflation. This year it is 19.2%. Three: He said that he was going to increase the contribution of manufacturing, industry to GDP. Last year our manufacturing sector grew -1.9%, mining grew at -3.8%. Four: He promised in their 2012 manifesto by 2016 he was going to construct 200 community secondary schools. We are in June, they have commissioned 5. We can go on and on with the broken promises. When ex-President Kufour left office our agriculture was growing at 7.4%, today it is 0.04%. It is very difficult to believe that today we are importing plantain into Ghana from Ivory Coast."
Comparing Ivory Coast to Ghana, Nana Akufo-Addo indicated the West Africa French-speaking country next to Ghana is going through a boom under its economy whilst Ghana's economy is in decline. "Six years ago Ivory Coast had election that led to 3,000 being killed, over 100,000 people being displaced, the country was at rock bottom and yet within 5 years because of strong leadership Ivory Coast is the number destination in Africa. They earn $12 billion from their agriculture whilst we earn $2 billion a year. We have to change this statistics. We cannot continue like this, whilst other people are prospering we are going down the hill. John Mahama cannot help us", he again emphasised adding, "his management, incompetence and corruption has brought us to where we are today in Ghana."
He also pointed out when the word 'incompetence' is used, the President get very upset and said: "This very week we have seen an example. The Finance Minister, Seth Terkper, told us he was preparing to tax pensioners and allowance saying it is income. The President 2 days later came to say they are not going to do anything like that. If this is not confusion in a government I don't know what it is. And if that is not a sign of incompetence then you show me what incompetence means. President Mahama says one thing, Finance Minister says another thing and we are all going forward. I don't know who is telling the truth. We have to work together to take Ghana out of this mess and bring it back to prosperity. The NPP government when elected is going to focus on expanding our industry and modernising our agriculture. Those are going to be the two main themes of the next four years. It's going to be how to bring industrial revolution in Ghana."
In his concluding statements, he told his supporters he wants to be remembered as the man who turned Ghana round. "For all these to happen I need your support. This is my third time of knocking on the door. Our victory is not for ourselves, it's not for the Party, is for Ghana. People ask me. So Nana, what is it at all these times you are still fighting, what is it that you are after? My answer is very simple. I want one day, in our grandchildren's time, when we are all gone and they are writing the history of Ghana, that they will say it was in our grandparent's time when Akufo-Addo was President that Ghana turned round. That is what I am fighting for."
Catch up on the latest news videos from Modern Ghana.
Advertized