ECG to disconnect consumers, debt ridden gov't institutions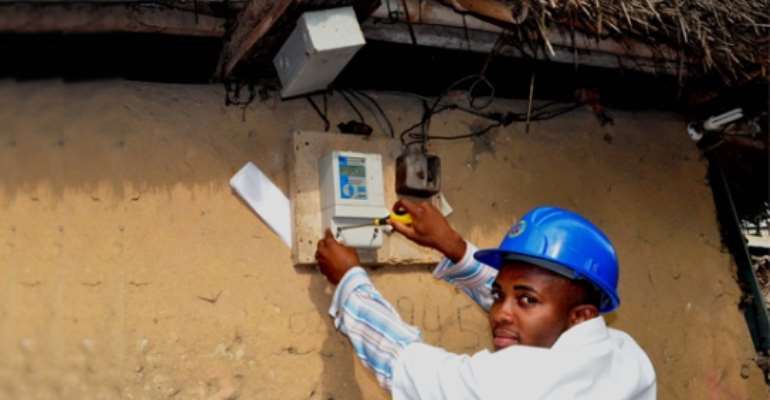 The Electricity Company of Ghana (ECG) is to embark on a massive disconnection exercise from June 20, 2016 to retrieve all arrears owed them by consumers.
According to workers of ECG, government has failed to pay all outstanding debts owed the company.
At a press conference organized by the Public Utilities Workers Union (PUWU) on Monday, General Secretary of the union, Ato Kwamena Bondzie-Quaye cautioned all government institutions and post-paid electricity consumers to settle all their bills in order not to be affected.
"We are serving notice to all government institutions that are owing ECG and those who are not on prepaid meters to take note that we are going to embark on a massive disconnection exercise with effect from 20th June 2016 to retrieve all arrears and to ensure that going forward all such institutions pay for the power they consume every month."
He noted that "any attempt by any authority to frustrate or impede our move to collect the outstanding debt will be fiercely resisted and we will consider such interference as a deliberate act to prevent us from carrying out our legitimate duties as workers."
He again kicked against plans by government to privatize the company's concession saying it will have dire consequences for the country.
He explained that such move will suffocate "local content…because the foreign investors whose objective is to maximize returns on his investments will prefer to source for cheap materials from outside at the expense of the existing Ghanaian suppliers."
"Virtually all the profits that will be generated will be repatriated outside the country with its attendant negative impact on the Ghana cedi. After 25 years, most of the assets that the private partner will hand over to the government will be virtually obsolete," Bondzie-Quaye added.
Consumers owe us GHc1.6 billion
The acting Director of Finance of the ECG, Mr Frank Anokwafo had told the Public Accounts Committee (PAC) that government, private institutions and individuals owe the company about GH¢1.6 billion in electricity bills as of 2014.
He said  government owed GH¢950 million as a result of subsidies and non-payment of electricity bills, while private institutions and individuals owed GH¢610 million.
–
By: Godwin A. Allotey/citifmonline.com/Ghana
Follow @AlloteyGodwin