UN Alerts That Terrorist Groups Are Exploiting Conflicts And Weak States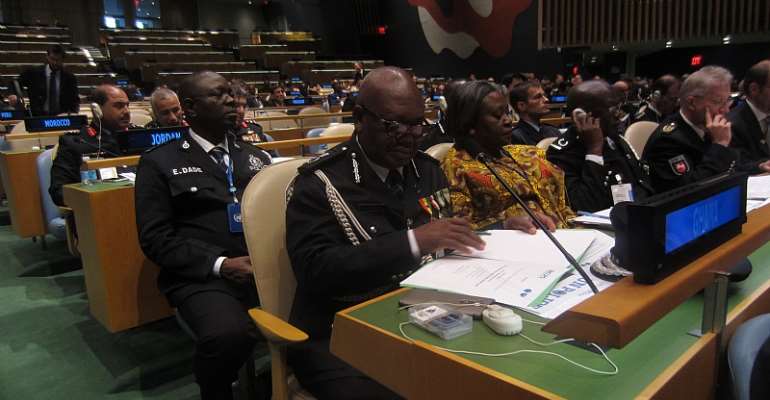 The first-ever United Nations Chiefs of Police Summit (COPS) was formally opened in New York today with a reminder that terrorist groups and organized criminal networks are exploiting and manipulating various factors to their advantage by "using conflicts and weakened states to achieve their own objectives".
In his remarks at the summit at the UN headquarters which is discussing the current and future trends for United Nations Police, Mr. Jan Eliasson, Deputy UN Secretary General pointed out that the security environment in which the UN operates has changed significantly with direct threats in an ever more complex, continually changing environment and the need to operate in a more dangerous and challenging locations.
"While some of the work of the United Nations is focused on finding political solutions to conflicts, hostile elements do not make any distinctions between humanitarian efforts and these peace and security mandated tasks", he stated adding that "We are part of the solution, we are also increasingly at risk because of this role".
In this direction, the Deputy Secretary General asked what the those underlying factors that create an environment conducive for terrorism and that allow organized crime to prosper.
Identifying the causes of the insecurity, Mr. Eliasson mentioned that societal factors contribute to creating an environment vulnerable to extremist sentiment and ideology. These include strongly engrained religious, tribal and social divides: poverty, unemployment and lack of opportunities.
"There are national security factors such as porous borders, easy access to weapons, the absence of effective import and export controls: poorly regulated or unforced legal restrictions to counter trafficking, poorly developed or funded security services and corruption.
"Corruption in particular can be catastrophic - not only does it pervert the rule of law: it hampers economic development: undermines democracy, discourages foreign direct investment, and it undermines people's confidence in governments and can allow terrorists and criminal organizations to operate with impunity ".Mr. Jan Eliasson said.
The Deputy Secretary General observed that there is now a complex interaction between armed conflict, terrorism and the organized global criminal trade in illicit goods (drugs, people, arms and counterfeit currency) with each one feeding off the other.
To buttress his argument, he said in the Sahel, where overlapping threats of armed conflict, insurgency, terrorism and organized crime are prevalent, large areas are left without an effective State presence. Increased fragmentation of armed groups renders the security situation all the more complex, fluid, volatile and prone to rapid changes.
Mr. Herve Ladsous, Under Secretary General for Peacekeeping Operations said more women were needed in current UN Police duties, apart from equipping and training personnel in particular to help in rooting out sexual exploitation and abuse.
At his turn, Mr. Atul Khare, Under Secretary General for Field Support explained that the aim of the summit is to chart the way forward for UN Police to deliver with greater impact on the ground, while tackling challenges of the 21st century, apart from reinforcing strategic partnership with Member States.
In his contribution, Mr. Miroslav Jenca, Assistant Secretary-General for Political Affairs harped on the fact that public perceptions of police are critical to easing political tensions, explaining that "where national police are seen as instruments of power and abuse, threatening the physical integrity of civilians, it complicates already volatile situations".
PICTUREs- by R. Harry Reynolds shows Ghana's Inspector General of Police, John Kudalor(left) listening attentively to the proceedings. on his left is Ambassador Martha Pobee, ACP Michael Avadetsi,(#rd from left) Director International Relations, Ghana Police, DSP Emmanuel K. Dade, (behind the IGP) Police Advisor, and ACP Mohammed Suraji, UN Police Mission in Sudan.