3rd June A day I Will Never Forget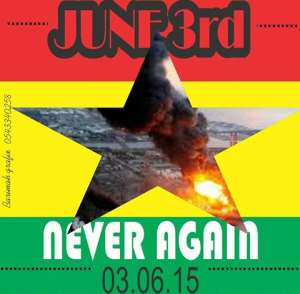 I remember on that fateful day I had closed from a meeting and walked to circle around 5pm to board a car home. In fact when I arrived at circle filling station, I just felt a prompting that I should board another car to Accra where I came from to Circle but will get a car to board. Trust me, This must be GRACE because if I was in my right senses, why would I get to circle to board a car home and board a car from circle again to Accra where I came from. On arriving home around 10pm and and I heard the sad news.
Till date I can't explain what informed my decision to leave the filling station at that time but I am 100% sure that this must be GRACE.
About 164 precious lives were gone ; and properties were lost. Everything from Human beings to money to structures all burnt to ashes. God have mercy.
The cause of this disaster by some expects was the lack of drainage systems at circle.
Unfortunately, this drainage has not been constructed till date as we speak. Please don't give me the flemzy excuse of the construction of the fly over. Really! Are we waiting to do the blame game again?
For a year now Seth Ofori who people claimed lighted a cigarette that started the fire is still under going investigation.
Where are the institutions involved and what are they doing?
What happened to the 5 member committee after they presented their report?
Were there no recommendations?
There was no committee to make sure that these recommendations were implemented? Oh my God.
My condolence to families, friends and loved ones who lost a relative.
Ghana my beloved country wake up from your slumber.
Nick Ametitor.
# [email protected] #