One Year After The Accra Apocalypse On June 3; Are We Now Doing Things Right?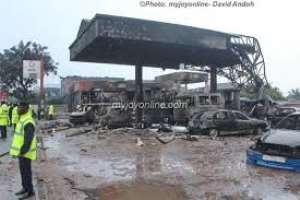 File Photo
Exactly one year ago, the good people of Ghana woke up to hear one of the greatest disasters in our political history. It was the Accra apocalypse on June 3, the Black Wednesday, in the year 2015. And as a passionate blogger, I remember writing the following on that day with sorrow.
The first paragraph reads, "For the first time in my artistry of article writing, I am clueless in writing an article, and it is about the apocalypse in Accra, i.e. the floods and the inferno which have claimed hundreds of lives in few hours. I wish I were a great poet like Wole Soyinka to lyrically express my immeasurable grief over this tragedy. To me, the Accra floods and gas explosion are acts of man to a large extent though their root cause is natural."
So I now ask the critical question: are we now doing things right? No; I doubt! The AMA appears not to have rectified Accra's poor sanitation situation which gave rise to the floods and Kwame Nkrumah Circle inferno. The residents of Accra still litter our great city, forgetting that perennial flooding is the city's unbridled problem. In fact, all the stakeholders are to blame for the filth that has engulfed our dear country.
Moreover, the June 3 Disaster Committee recommended the complete dredging of the Odaw River, banning the use of plastics as carrier bags, water dispensers and cooked food containers. Standardised training, certification and licensing of fuel station attendants, creation of sanitation police, compulsory fitting of all commercial vehicles with refuse baskets or bins should be ensured. I hope the authorities faithfully execute them all. However, we need more efficient PPP and BOT agreements in our sanitation sector while the stringent sanitation laws ruthlessly deal with offenders.
Source: sirarticle.blogspot.com