Sensitization Forum In Mankessim Exposes Tricks Of Child Trafficking, Empower Thousands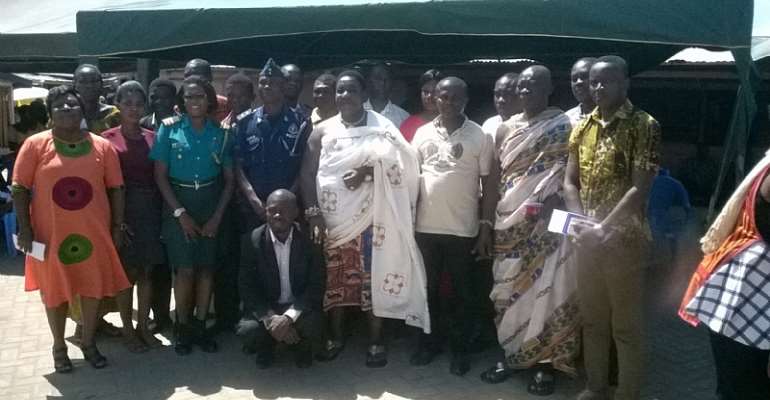 Thousands of both young and adults have received overwhelming empowerment at a durbar which exposes tricks and strategies traffickers use in trafficking children and youth in Ghana for exploitation either in Ghana or abroad at Mankessim Township located in the Mfantseman Municipality of the Central Region on Tuesday, May 31.
The sensitization and educative forum which comes under the theme: "Children must be in School, not working" was initiated by Engage Now Africa, an International Non-Governmental Organization (NGO) committed to ending modern slavery and poverty in Ghana and Africa as a whole.
The purpose of the durbar was to educate Ghanaians on the tricks and strategies that traffickers use in trafficking children in Ghana and elsewhere in the world. It is seeks to launch the presence of Engage Now Africa within some districts of the Central Region with tools like education, prevention and advocacy as its three main pillars to empower people against child trafficking and its menace.
Modern slavery also known as child trafficking, refers to the recruitment, transportation, harboring or transfer of a person from one place or the other against the real will of the victim for the purpose of forced labour, sexual exploitation or organ trade.
Addressing the biggest forum which took place at the main Accra lorry station at Mankessim, David Kofi Awusi, Assistant Director of End Modern Slavery, Engage Now Africa, cautioned the general public to be vigilant and resist every trick of child traffickers to lure unsuspecting people who ends up as victims to the barbaric act.
He identified 'deception' as the major technique used by child traffickers to recruit their targets (victims). "They will tell you that there is a job, there's an opportunity, I want you to get your child to come and stay with me in the city only to take them there to go and use for different purposes.
"Some of them are also through false promises…we hear that some people will come and say that there's a job opportunity in Saudi Arabia, Kuwait, Qatar in the Gulf Countries and they will recruit people under the pretext of giving them job, quality education only for their traveling documents to be confiscated and they are made to work in hotels, restaurants, call centers and different forms of work that is exploitative".
David Kofi Awusi charged the public to quickly lodge a complaint with either the Domestic Violence or Support Unit (DOVSU) of the Ghana Police Service, Social Welfare Department or contact other law enforcement agencies for assistance whenever they encounter such cases.
The Director of Mankessim Social Welfare Department, Mrs. Felicia Ankrah Halm appealed to gov't to help enforce the laws guiding child trafficking and any form of exploitation in the country to punish offenders.
She equally called on gov't to financially assist poor parents who cannot afford to cater for their wards in school in order to put a stop to child trafficking in the area.
At the forum numerous concerns were raised by traders, school children and parents all pointing to poverty as the main cause of all forms of human trafficking including child labour, child trafficking in fishing, head porterage("Kayaye"), sexual exploitation, domestic servitude, forced marriages among others.
But in an interview with journalists, Mrs. Felicia Ankrah Halm, Director of Mankessim Social Welfare Department disagrees, citing parental neglect and certain bad attitudes children are exposed to by parents as the main cause.
"It is what we tell the children and the kinds of pictures we paint for the children to see that is rather deterring children from going to school than the poverty that we always attribute school drop to or children engaging in child labour"
She wondered why most people are attributing the cause of child labour to poverty explaining: "Poverty has been with us since the time of Adams, so why we can't say because of poverty children are not going to school but engaging in child labour". "We all went to school even though our parents are poor".
"It is the commitment and the zeal of that child coupled with the responsibility of every parent to inculcate that zeal in the child as soon as the child is born" she suggested.
Meanwhile, The Assistant Inspector of the Ghana Immigration Service (Saltpond), Ivy Nartey has advised parents to exercise restraint and scrutinize people who come to them asking for their children to come and live with them in the city before leaving them in order not to put the lives of these unfortunate children in danger.
She revealed most of these children who falls as victims to child traffickers are either forced into prostitution or hazardous works; others encounter kidney removal whiles some are killed for money rituals.
Mankessim is a town located in the Mfantseman Municipality of the Central Region where the practice of child trafficking is ripe contributing adversely to teenage pregnancy, rape, child labour low standards in education ruining bright future of many children.
The majority of young children living Mankessim at the ages of five (5) are meant to go through hazardous labour like fishing in the deep sea, child labour in farming, child labour in illegal mining(Galamsey), street hawking and sexual exploitation among others.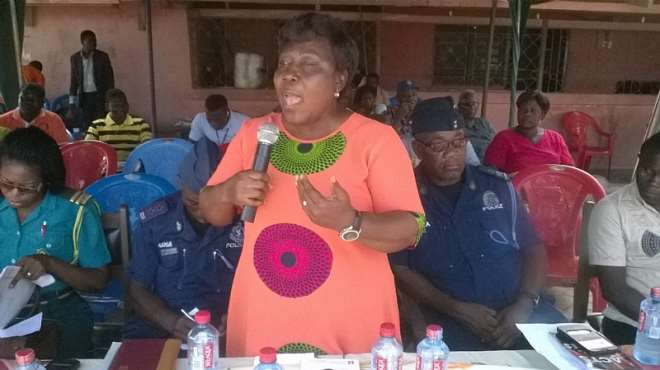 Director Of Mankessim Social Welfare Department, Mrs. Felicia Ankrah Halm Delivering A Speech At The Forum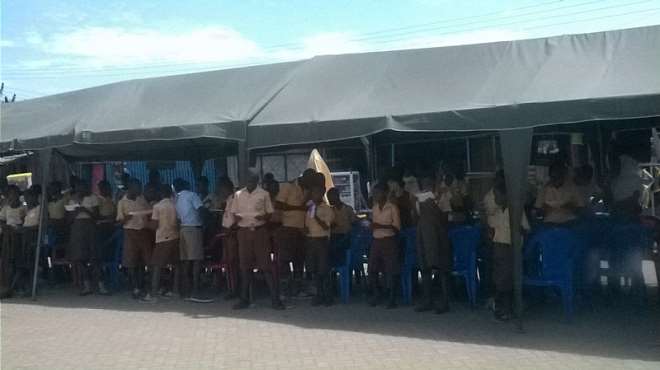 Wp 20160531 033