Statement: Mahama Borrows $18bn And Invests $150m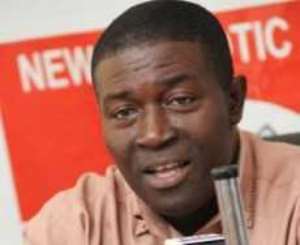 The Communications Director of the New Patriotic Party (NPP), Nana Akomea, says government, in spite of all the hefty borrowing of $18Billion and over $3 Billion Oil proceeds received, has only managed to invest $150 Million.
A statement signed by the Communications Director, indicates that the conduct of the ruling government is effectively collapsing industries in the country.
Below is the full statement:
GOVERNMENT SUPPORT FOR INDUSTRY IS POOR, INVESTING LESS THAN $150 MILLION OUT OF $18 BILLION BORROWED AND $3 BILLION OIL RECEIPTS
President Mahama yesterday Monday, 30th May, commissioned the new sugar factory at Komenda.
The original factory, built by President Nkrumah in the 1960s, had run into difficulties like many other state owned factories, and was eventually sold/ divested in 1998.
The establishment of the new factory is commendable, and offers new hope that Ghana may still make good on its potential to produce sugar.
This potential, if fully realized, would result in creation of jobs, the savings of millions of dollars that would otherwise go into sugar importation and also increase Ghana's Gross Domestic Product.
More importantly, industrialization is arguably the best tool to enable Ghana to transform from a raw material based economy   into a value added industrial economy which has been the dream of all leaders since President Nkrumah.
The new sugar factory in Komenda is therefore a step in the right direction.
.
However, President Mahama and the NDC government's commitment to value added industrialization   and transformation of the Ghanaian economy is very disappointing.
As mentioned earlier, all our leaders and aspiring leaders, including President Mahama have told Ghanaians of their commitment to value addition and industrialization to achieve the desired paradigm shift and transformation of the economy, with its positive effects on sustainable youth employment, stable economy and growth.
President Mahama however has not lived up to expectations as far as this promised transformation is concerned.
The NDC government since 2009, has borrowed (by the government's own admission) $18 billion.   In addition, it has also secured about $3 billion from oil receipts since 2010.
The government's quantifiable investment into direct industrialization seems to be limited to the $20 million invested into the shoe production factory in Kumasi, the about $30 million invested into the pharmaceutical industry and the 35 million invested into the Komenda sugar factory.
Give or take other sundry investments into other industries,  it seems the government has only invested not more than a paltry $150 million into direct industrialization and /or support for industry,  out of total borrowings and oil receipts in excess of $20 billion in the last 7 years.
This is a meager 0.75%.
In view of President Mahama's declared commitment to transformation through value added industrialization, this ratio is grossly inadequate.
The great opportunity for transformation, stable and sustained employment and economic growth is being missed.
Nana Akomea