Journalist Privilege Card For GPC Members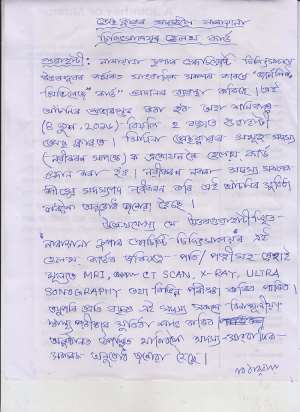 Guwahati: The city based Narayana Super-specialty Hospital in association with Guwahati Press Club (GPC) planned to offer Journalist Privilege Cards to its member-journalists. The recognized members of the press club will be handed over the health cards in a function starting at 2 pm on Saturday (4 June 2016) in the press club auditorium.
The privilege card will enable the scribes for discounts on MRI, CT Scan, X-ray, Ultra Sonography and various laboratory tests besides priority in the admission. The hospital authority has also planned for annual health check-up facilities for the card holders along with his/her spouses. Free ambulance service is also under consideration subject to the availability, informed the authority adding that the entire program was designed so that the card holders can save expenditures on medical treatments.
Mentionable is the Narayana Super-specialty Hospital, Guwahati was commissioned in December 2013 with 185 beds, under a 30 year public-private partnership initiative with the State government. The hospital extends medical supports to the patients under the category of cardiac science, neuroscience and orthopaedics.
The hospital authority also added that the facility would be extended to the scribes based in other parts of the region very soon. The GPC program is recognized as the starting point for the hospital's mission to support the media persons working in the alienated part of the country.