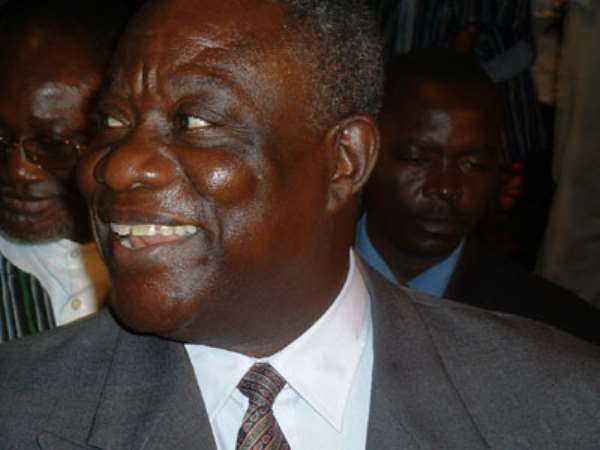 The presidential candidate of the National Democratic Congress (NDC) in the 2004 elections,Prof John Evans Attah Mills, has stated that the victory declared for the New Patriotic Party (NPP) initially in the Pru Constituency was an indication that there were similar electoral frauds in the polls.
He,therefore, served notice that soon the party would come out with similar acts of frauds perpetrated in favour of the NPP.Professor Mills said this when he addressed a party organised for ward co-ordinators and party faithful in the Tema West Constituency to thank them for voting for the party in the December elections.
"As far as I am concerned we are victorious, as far as I am concerned the truth has reigned," he said.He commended the party faithfuls for their dedication and hard work, adding "if we are able to achieve a respectable result it is because of your dedication and hard work."
He said the NDC was built on the collective will of the people and that it was only those who loved the party that had been able to remain members and praised them for their commitment and dedication to a good cause.Prof Mills expressed reservations about pockets of pre and post electoral incidents and said these were not good for the growth of the country's democracy.
He pledged his preparedness to continue to help in the re-organisation of the party to wrest power from the NPP in the 2008 elections.Dr Francis Worgbe, a leading member of the party said the NPP had underestimated the strength of the NDC in the December elections, adding that "this election has created a lot of enthusiasm in our people."
He called for a membership drive.Mr Sam Garbah, a leading member of the party, called for reform in the party, adding that" until the party resides in the people it cannot function."