June 1, 2016
|
Opinion/Feature
Alluvial Gold Mining And Our Muddy Waters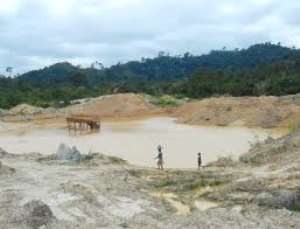 Indeed the next world war will not result from economic supremacy but the scarcity of water. Ghana is blessed with enough fresh water bodies like river Densu, Oti, Pra, Birim, Ankobra etc. which are now polluted beyond the description of words, the word muddy is an underestimation.
The level of pollution of these rivers is heartbreaking to nature lovers. It's now a blame game between traditional authorities who are custodians of the land and its water bodies and politicians who have the power of the state in which mineral resources are vested. The painful truth is, Traditional authorities have NO powers whatsoever under the 1992 constitution to stop mining and it adverse effects.
The best they can do is to go outside the law and apply morality and conscience through forceful actions which is NOT based on law because they lack the constitutional powers to execute and that could spark mayhem and violence.The power however lies in government and its institutions especially the minerals commission, Ministry of water resources works and housing and the Environmental Protection Agency(EPA) who are mandated by law to safeguard our environment.
It's not surprising that Ghana has started abandoning "fresh water" and taken the higher cost option of desalinating the sea water for consumption. The cost of treating a litre of water has balooned according to the Ghana water company limited. The high level of fresh water pollution has led to the shutting down of some water treatment plants and more treatment plants are susceptible to closure. The Evironmental protection agency that is mandated to safeguard these water bodies sits and watch aloof this wanton pollution whilst NGO's struggle to no avail to curb the menace.
At the peak of gold prices, the small scale mining industry had a workforce of about forty thousand.Almost all the licensed small scale miners are into Alluvial mining.These small-scale miners often use simple artisanal mining techniques in alluvial deposits. The process of alluvial gold mining involves digging and sifting through mud, sand and gravel using shovels, sieves, or even bare hands and this is not the preserve of only galamseyers but all licensed small scale miners.
Alluvial mining though regarded the most environmentally friendly method of gold mining as a result of the reduced environmental impact when compared to underground mining it's the worst cause of water pollution. This is because a large proportion of alluvial deposits are found in water bodies. Those found outside of water bodies are washed in nearby streams and rivers instead of it being done far away from our streams and rivers. Those who wash away from the water bodies also don't manage the waste from the process well as they are channelled either consciously or unconsciously back into our waters.This is the genesis of the pollution of water bodies in Mining communities.
The washing of the alluvial deposits by galamseyers and licensed small scale miners generates mud mixed with mercury, cynide and other poisonous liquids which are disposed into rivers. water is a major component of this relatively cheap process and therefore they mine close to or in water bodies for easy access against the laws which prohibits mining close to water bodies. Interestingly alluvial process is very cheap but not an efficient process and as such a lot of gold is left in the muddy and stony gangue(waste).
The vast majority of licensed small scale concessions and mines are owned by politicians.They give part of their concessions to other alluvial miners on a mine-we-purchase agreement then they hide under the term "licensed" to push the blame on illegal miners (galamsey) though they are all guilty when it comes to the pollution forgetting they are licensed to mine gold not at the detriment of polluting water bodies. Nontheless,Small scale mining, when properly regulated with legislations will be a panacea for solving the huge unemployment situation in the country at the moment .
The EPA just recently predicted that there will be severe water crises in Ghana by 2025. Such ultrances send shivers down the spine. What is EPA telling us? Are they now an environmental predicting body or a protection body? Indeed if their prediction is anything to go by then it's an admission of institutional failure of the Agency. EPA must as a matter of urgency rise up to the challenge and immediately enforce the laws on approved extraction processes, methods and approved means of disposing mining waste without any fear or favour lest communities which are most affected by the destruction of their waters would advise themselves.
Seth Panyin Boamah
[email protected]
Engineer, writer and social commentator.