Banku Fondles Breast … As He Endorses John Mahama… But NDC Disowns Ayitey Powers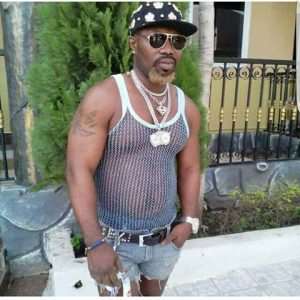 It still remains a mystery, what perhaps motivates Bukom-based boxer, Braimah Kamoko, popularly known as Bukom Banku, to continuously churn out questionable video-clipped   endorsements of President John Dramani Mahama and the ruling National Democratic Congress (NDC), which are often splashed on social media, mainly Facebook and WhatsApp.
Some of the videos are without doubt, clothed with contents and scenes that make mockery of morality and also touch on the integrity of the President.
Just last week, the NDC was quick to react and condemn a video message from Michael Ayittey Powers, also a boxer, which was meant to be an endorsement of the candidature of President Mahama. The explanation given for the disapproval was that the piece was embellished with insults and abusive language, which the NDC did not subscribe to.
Signed by the party's General Secretary, Johnson Asiedu Nketia, the release read in part: In as much as the NDC appreciates, and continues to appreciate the massive endorsement of President Mahama by all sections of the Ghanaian Society, the use of abusive and unacceptable language shall not be accepted. The NDC is reiterating the fact that abusive language and violence is not our style of campaigning."
This was followed up with an extensive discussion on a pro-NDC station, Radio Gold, the next day. Panellists on the morning show agreed that the party ought to look deep into the sort of personalities who volunteered to campaign for the president, failure of which could affect the party's chances at the polls in November.
But surprisingly, a day after Powers' 'vulgar words' , his fervent rival, Bukom Banku, was captured in a video recording in which he audibly described himself as the  'Darling Boy' of the NDC and the President, while he gladly fondles  the breasts of two innocent-looking underage girls.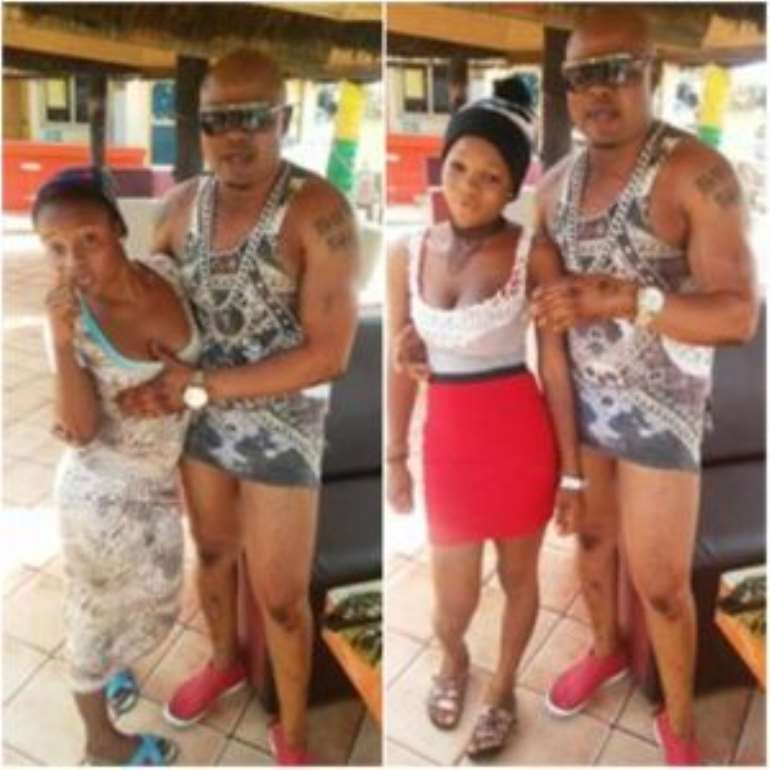 In that video, the man who has bleached the colour of his skin in order to pass for Ghana's ambassador to Germany as he claimed to have been promised,  was heard, among other things, saying: "…look at the country, look at Ghana, me and Shatta Wale and John Mahama, we carry the Ghana, we carry the Ghana…Look at Banku Fresh and my fresh girls, look at my fresh girls…" as he shook the girls' breasts to demonstrate his unconditional and absolute ownership of them.

Absurd as it may seem, the umbrella family is yet to comment on the video, which as at yesterday, had enjoyed over 130,000 views on Facebook, with derogatory comments mostly questioning the calibre of people around the president, accompanying them.

Political watchers and activists, including active members of the NDC have raised eyebrows over Bukom Banku's videos, coupled with the relaxed and unwilling posture of the party to dissociate itself from a character whose life is filled with violence, especially against women who refuse to succumb to his sexual advances.

Late last year, the self-acclaimed 'Africa Mayweather' beat up and disfigured the faces of two ladies in his area because they refused to yield to his proposal to have sexual intercourse with them, not even after, by way of making them bow into submission, he had boasted with his close association with President Mahama.

That was not without the huge sums of money he had promised them should they allow him to have his way through.

It came to light in an interview which the assaulted ladies granted to an Accra-based radio station and a television station that as claimed by the boxer, his arrest could not be effected because the security agents had been cautioned not to do anything of the sort.

When the Accra Police, under its Commander, Commissioner of Police (COP) Dr George Akuffo Dampare, arrested and detained the 'untouchable', sources whispered that the police top hierarchy was livid by the move, as it allegedly demanded his release, even though he had been

By Pascal kafu Abotsi