IGP's Intent To Place A Ban On Social Media On Election Day, Is A Sabotage On Democracy And A Dent On Our Democratic Credentials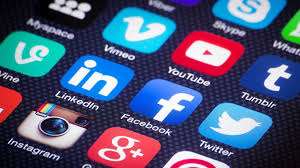 Most often a time, people look at a glass as half empty instead of seeing it as half full. Let's rather focus on the good aspects of social media even though the few disadvantages are a reality. For the purpose of today's discussion I won't dwell much on the benefits of social media.
Social media has made it a lot easier to communicate as compared to those days where it could take up to three months to get messages abroad and also three months for you to get responses. In those days, it virtually could take you half of a year to communicate with someone in a foreign land. If you've ever used the airmail system before then you would understand what I'm talking about. Social media has made this trend a thing of the past. What do we see today? With just a click of a button or key, messages could be sent and received by anyone anywhere in the world.
The use of Facebook dates as far back as February 4, 2004, Whatsapp as far back as 2009, twitter founded on March 21, 2006 and Skype, August 29, 2003
So clearly, some of these social media apps existed before the 2004 elections, others came in after 2008 elections, others came before the 2012 elections and a lot more such as telegram, Imo, are still coming into the system. Unless I'm proven wrong; there's no research data in Ghana indicating or suggesting the cause(s) of elections violence as social media.
So the question is; what has changed hence the call or intent to ban the use of social media on Election Day?
I see the call or intent of the Inspector General of the Ghana Police service to ban social media before and during the Election Day as a rather unfortunate one; most especially at a time where our Electoral Commission seems not to know exactly what they are doing and an alleged use of the security services to intimidate the opposition political parties by government. In my candid opinion, He is leading a diabolic agenda to perpetuate or condone heinous crimes against the good people of Ghana on the Election Day. If not why would he try to deny us access to social media and by larger extension information on the day of election? If this act is enforced, it will rather plunge the country into chaos and sabotage democracy. Where will our freedom of expression be? Don't forget, on Election Day, when people do not know exactly what is going on, they will begin to speculate and when this happens, it becomes a good recipe for chaos.
If you care to know, those of us on social media engaging in active partisan politics are but a few in number, just that we keep repeating our ideas hence the social media dominance of political activities. Don't be deceived, dominance doesn't mean large numbers. So why block social media because of few political activists against a greater majority of Ghanaians who use it for other relatively important endeavors?
If the Ghana Police Service has that expertise, why don't they channel it into crime prevention and killing cyber fraud? A lot of these sakawa boys and girls operate through social media. That's what matters!!
Come to think of it; does the IGP, hence the police have that constitutional backing to deny us access to information and hence a ban on social media? What gives them that legal backing? I stand to be corrected, I believe it is only the government, acting through the ministry of interior and ministry of communication who has the power to exercise that prerogative and even in doing so it will requires a parliamentary approval or an order from a court of competent jurisdiction. This leaves me asking a lot of questions; is the IGP doing the bidding for the government, the political Party in power or who? Is he testing the waters to see how people will react to it? Well, I don't have the answers!
On what grounds is the IGP making that motive or intent? What is his hypothesis based on? If they have any intelligence suggesting that someone or group of persons are plotting to use social media to cause mayhem on Election Day what stops them from picking them up for questioning?
On a lighter note, I think the IGP wants to do lazy work and get it all too easy on the Election Day.
Have you realized this trend? The vast majority of people supporting this call made by the IGP are people who sympathize with the ruling NDC Party, or are NDC activists and loyalists. This gives me more room for suspicion. So I quizzed myself: what are they running away from? What are they hiding or trying to hide? What have they plotted or trying to plot. A lot of questions run through my mind with no tangible answers. Unfortunately history favors the NDC when it comes to stifling democracy.
A ban on social media before and during the election will be a wrong move. It will be a very good recipe for chaos and it's a good step in democratic retrogression. This should not be encouraged or entertained. For God and Country Ghana must stand!!
"'ELECTION 2016, YOUR MIND 4 DEY"
Raphael Kumah Abolasom
Frmer SRC President-UDS, Tamale
[email protected]