Putting On Your "Pan Tie" How Determined Are You?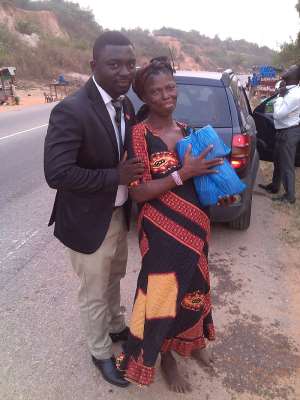 I have always maintained that "life is about how you make it but not how someone makes it for you". This philosophy has kept me moving irrespective of the circumstances.
There have been times where people have called on me to help resolve one issue or the other and I gain delight in doing that because identifying problems and professing solutions to them makes me feel like a man .
Life keeps on teaching me so many things and I keep adjusting to the conditions and situations of it as and when it pops up
I recollect vividly on the 6th of February 2016, as I traveled along the Accra-Takoradi road for the national union of Ghana students (NUGS) central committee meeting together with Malik, Manaf and shata , we stopped at where the fante kenkey sellers have their stands and as they rushed towards our car, I noticed an old woman who could be my grandmother. She was in the race with these "fresh blood" to have her kenkey bought...
I was indeed touched by her effort to earn an income for a living and it reminded me of my philosophy in life captured in the first paragraph.
I was really inspired by the zeal and enthusiasm with which this woman went about her work and this left me tremble in my voice for the fear that there is more to be done by the younger generation to catch up with the older folks
According to nicco Machiavelli, an ancient philosopher, the worst enemy of mankind is "INDECISION AND TIMIDITY" which has caused you and i the fear of undertaking very important venture that would benefit us and the community at large
My advice to we the young is to keep the focus and be much more determined and confident because its often said that "where determination exists failure cannot dismantle the flag of success" and " without confidence you are evendefeated before you start the race"
In all of these let's remember that, all we seek to do is to make an IMPACT therefore our collective EFFORT matters...
THANKS
My name is Samuel Amaning kojo Danquah...
(Greater Accra regional president- National service personnel association (NASPA))
Call-0546751934
Whatsapp-0274710215