Re-Disclaimer: TESCON China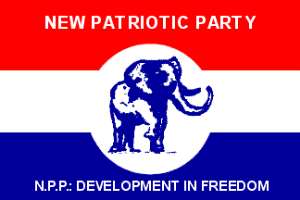 Minds that believe in competence, accountability and progress of others seeks to encourage, motivate and nurture any attempt to bring progress and victory for the society, community or a nation. Individual's selfish interest is the reason why NPP is like this today. We have no doubts about the competence of NPP to send the nation to its rightful economic destination, but self-seeking individuals like Chairman Sugri and his cohorts have denied not only the party but the entire Ghanaians this feat.
Why the struggle if all things are well accounted for? What's the relationship between TESCON and Main Branch? Our attention has been drawn to a disclaimer signed by one Mr. Mahama Alhassan claiming that "the formation and existence of TESCON China is illegal" because "they" the main branch and the headquarters has no idea about it and therefore people should desist from joining. REALLY?
If they have no idea about it, then why the disclaimer? Does one need permission from main branch before forming TESCON? Even if it is so, when and how must that be? As an intellectual group wishing to come up and support the course of Ghana's progress, the betterment of NPP and victory for the suffering Ghanaian youth, we'll advice that, matters of these nature are of less important at this critical moment.
We wish to advice NPP China branch to concentrate on important matters bothering the progress of the party and the nation at large, we wish to remind these faceless entities and executives to resolve the internal crises that are bothering the group. We'll also advice that, the secretary and the chairman of the China branch must check their facts well because we are well aware that a notice about this group has been sent to them NOT to ask for permission to form the group, BUT as our neighbor branch. From our checks the names under the statement in capacity of branch secretary is not even accurate which deepens our belief that this alleged statement is coming from NPP/China.
We'll also advice that, we TESCON China is not a treat to any of them, we're educated to the university level, but we're not after their positions, so Mr. appointed Chairman and his fellow called to worship executives, feel free and work for the progress of NPP and mother Ghana.
Change is coming
We are for Change… Long live Ghana...Long live NPP.
Long live Nana Addo
……. Signed…..
Nana Kwabena Adom
(Tescon China President)