UE National Service Personal Attend Seminar On Social Entrepreneurship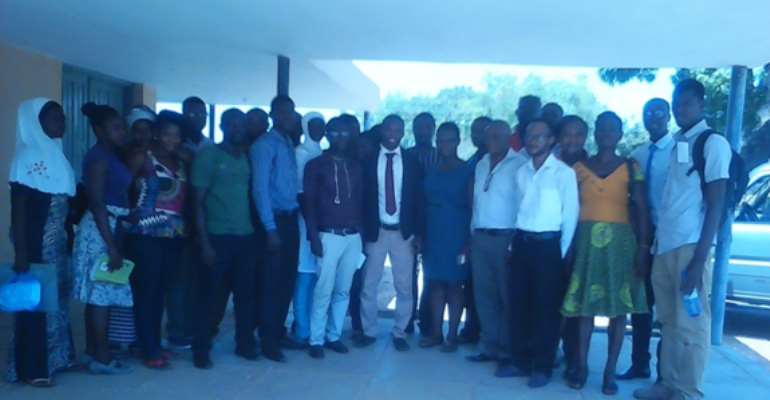 National Service Personnel drawn from the Bolgatanga Municipality and Bawku West District in the Upper East Region have attended seminar on Social Entrepreneurship training in the Bolgatanga.
The seminar held at separate functions was organised by the Restorative Seeds Society (RSS) in collaboration with the National Service Personnel Association (NASPA).
It was aimed at building the capacity of the personnel to establish their own businesses instead of relying solely on Government for employment.
Apart from the Social Entrepreneurship training Programme, the Service Personnel were also schooled on how to develop good Curriculum Vitae (CV) and tips on interviews for job seekers.
Facilitating the seminar, the Executive Director of the RSS, Mr Hilary Adongo, explained that unlike the Entrepreneurship, Social Entrepreneurship refers to a situation where the individual or group addresses Social challenges using business principles to generate income.
He told that the National Service personnel that with the Social Entrepreneurship without money one could start a business because the principles teaches one to use social capital such as one's talent, available friends , social amenities among others to get their businesses started.
He cited that for example one could start a school from a friend's unoccupied office space or the premises of a house instead of investing to rent apartment to start it and also impressed upon the personnel to network.
Mr Yen Nyeya , Director for the Centre for Skills Training who schooled participants on how to develop good Curriculum Vitae (CV) and tips on interviews for job seekers, stated that most job seekers failed to secure jobs as result of the poor nature they developed their CVs and the way and manner they conduct themselves during interviews.
He stressed the need for job seekers to tailor their CVs to the role specification on the job advertised and to highlight their skills and experience in the CVs as well as conduct research of the employer, requirement of the job , dress appropriately and arrive on time for the interview.
"The potential employers are always impressed with candidates who go extra mile to boost their own skills and experience in their CVs " Mr Nyeya stressed.
The Bolgatanga Municipal Director of National Service Scheme(NSS) Mr Korley Brown, who entreated the personnel to put into practice the knowledge acquired , told them that Businessmen in the private sectors earned more money than the public sector workers and urged them to strategically positioned themselves to take advantage of that.
The Regional Director of the National Service Scheme, Mr Winfred Agbovie Aushie , who commended the RSS and NASPA for organizing the seminar regretted that there were some graduates who find it difficult to write good application letters and CVs for jobs
He indicated that the problem associated with developing CVs was not limited to people who had just completed their education and seeking for jobs but people who had been in the system for long and cited for example during the Ministerial vetting , most Minister had problems with the way and manner they developed their CVs
"You are assessed first on the face value of your application letter and your CV when you apply for job. Your CV must be dynamic and always ensure that your friends who are good always help you to do poof reading"