Mali family blame UN peacekeepers for death in custody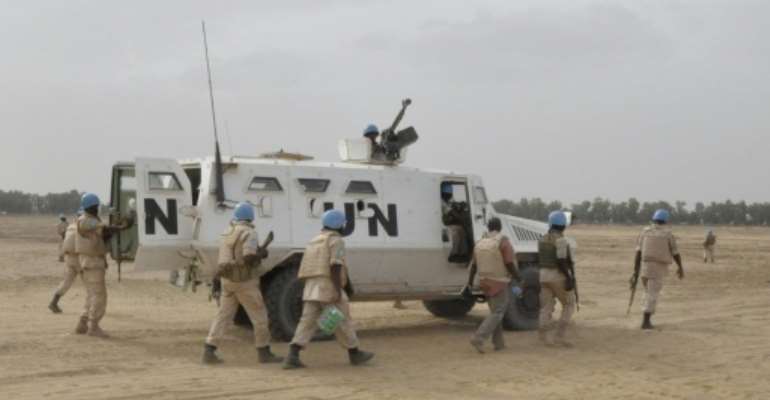 Bamako (AFP) - The family of a Malian civilian who died after being arrested by peacekeepers following a deadly jihadist attack claimed his death was due to abuse in custody as the UN Friday promised to "shed light" on the incident.
Five Chadian peacekeepers were killed in the ambush in northeast Mali on May 18 and a sixth died of his wounds on May 24, according to the latest toll from the UN mission in Mali (MINUSMA).
Three suspects were arrested, one of whom "died on May 19 in the hours following his apprehension" while the other two were released, MINUSMA said last week as it announced the launch of an internal inquiry.
The victim was an elderly Tuareg shepherd named Almoustapha Ag Intisniyiken, who was detained with his son and another relative, his family told AFP.
"If they had not arrested my father with violence, he would not have died," his son Ousmane Ag Almoustapha told AFP by telephone, speaking in the Tuareg language which one of his relatives then translated.
"We were behind our flock when the Chadians fired shots. The animals scattered and ran and they arrested the three of us," he said.
"They started hitting us with the butts of their guns to make us confess that we were involved in the attack. We said weren't, but that we saw three gunmen on motorcycles coming from the site of the attack," he said.
"Then they separated us from my father. It was afterwards I learned he had died," he added.
- Internal investigation -
Another member of the dead shepherd's family, speaking on condition of anonymity, said "for us, it was not a natural death"."I'm grateful that MINUSMA have said we are going to learn the truth," he added.
Questioned about the family's accusations, MINUSMA spokeswoman Radhia Achouri said there was an inquiry was underway and she "did not want to prejudge the outcome of these investigations".
"MINUSMA will share the relevant findings of the internal investigations with transparency and if there is an error/misconduct, they will assume responsibility," Achouri said in an email to AFP.
The investigation "is ongoing but we are ensuring it will be concluded as soon as possible", she said.
Its goal is "to shed light on the circumstances of the attack" including the arrest of the three suspects and the death of one of them, she said.
Islamist group Ansar Dine has claimed responsibility for the attack.
Ansar Dine was one of several Islamist factions that conquered vast swathes of the Mali's north in 2012 before being repulsed by French troops.
A landmark peace agreement was reached last year between the Mali government and the rebels, but jihadist violence remains a threat and the government has been unable to maintain security with domestic forces alone.
Five Malian soldiers were killed and four others wounded Friday in northern Mali when their vehicles were blown up by an improvised explosive device, the army said.
The Mali mission is the most dangerous active deployment for UN peacekeepers and has been hit by sharp internal tensions since its launch in July 2013.