COCOBOD Suspects Haruna Iddrisu Hiding Behind ICU.....To Destroy Dr. Stephen Opuni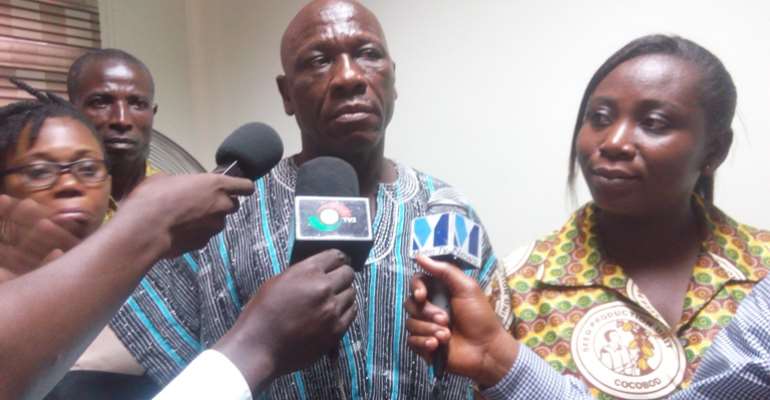 Alhaji Idris Hassan, Chairman of the Supreme Council of workers, Cocoa Board Company Limited, said, they are beginning to have deep feeling and notion that some cabal of a sort are hiding behind the two mother Unions just to destroy Dr. Stephen Opuni's image and good records as the CEO of COCOBOD.
He said, at every point in time one will hear Industrial and Commercial Workers Union [ICU] Secretary frequently mentioning the Minister of Employment and Labour Relations Hon. Haruna Iddrisu's in their public reactions towards COCOBOD.
Adding that consistently, letters that comes to COCOBOD emanates from the sector Minister's office.
Alhaji noted that the COCOBOD Union is not accountable to the Minister because COCOBOD is an independent democratic organization that will have to deal with issues based on social partnership.
"And we are inclined to believe that names that are going round like Hon. Haruna Iddrisu, calls for questioning. We've been told and know, before Dr. Opuni was appointed some party functionaries and Ministers engaged some of the workers leaders wanting us to refuse or reject Dr. Opuni's appointment as the CEO of COCOBOD," he stated.
Alhaji Hassan stated that "We thought that would have been the end when they did not succeed and now that these things are happening, we are beginning to have the thinking feeling and notion that some of these people might be the cause of the rancor between COCOBOD and the two national Unions
The President has responded to the allegations raised against Dr. Opuni and you the Minister is calling him for a meeting, meeting for what? You are also accountable to the Presidency."
He posited that the problem with Dr. Opuni is that he is such a man that nobody can be pushed around.
Adding that, some Ministers are also complaining about Dr. Opuni refusal to attend to them when they come to COCOBOD.
"COCOBOD is a state enterprise which not for NDC nor NPP and he has proven it within the short period that he has being in the industry," he emphasized.
Alhaji Idris Hassan emphasized that the two mother unions are making every effort to dint the image of the CEO of COCOBOD Dr. Stephen Opuni with lies and hatred because the two mother union are going lose huge revenue and membership from COCOBOD.
He pointed out the allegation that COCOBOD workers matched on the streets to the Ministry of Employment and Labour Relations to present a petition to Hon. Haruna Iddrisu against Dr. Opuni is unfounded.
Secondly, the allegation that the CEO of COCOBOD Dr. Stephen Opuni has shown disrespect in relation to failure to honour invitations to address issues of Ghana Cocoa Board by the Minister is baseless.
He recollects that the ICU reported Dr. Opuni to President Mahama to give a detail explanation of the issues raised by the mother unions which he [Dr. Opuni] did just that.
According to Alhaji Idrisu Hassan, the Presidency responded to COCOBOD and Dr. Opuni that they are clear and satisfied with the explanation given by Dr. Opuni after they studied the merit and demerit of the issues raised by the two mother unions.
He said, after that, there came another invitation by the sector Minister Hon. Haruna Iddrisu expressing a desire to meet the Union Executives which they sat with some Directors at the Ministry to talk to the issues raised. The Directors, on behalf of the Sector Minister, said they were satisfied and that the Minister is yet to meet them in person for them to discuss the issues further which they waited.
Alhaji Hassan added that all of a sudden, there came a third letter emanating from the Sector Minister Hon, Haruna Iddrisu calling for a tripartite meeting of which it shall be chaired by the Chairman of the Tripartite Committee.
He said Dr. Opuni and ICU were both invited to attend the meeting so as to resolve the impasse.
He noted that unfortunately, Dr. Opuni has another engagement in Kumasi of which he was unable to attend that particular meeting.
"Besides that, Dr. Opuni is not COCOBOD and COCOBOD is not Dr. Opuni. Issues of this sort are discussed by management of COCOBOD and the Directors for decision to be taken. This issue of Dr. Opuni been invited to the meeting, I will say for sure that management would have not allowed Dr. Opuni to attend the meeting
Even if he had wanted to go, he was not going as a person but as the CEO of COCOBOD. The simplicity of it is, the issue that the Honourable Sector Minister wanted to address was not an issue Dr. Opuni needed to be invited in the sense that the issue happens to be an issue between the ICU, GAWU and COCOBOD," Alhaji Idris Hassan emphasized.
He said, besides that, as at the time the Sector Minister was writing to Dr. Opuni to attend the meeting, ICU had taken COCOBOD management and the Union to court for the second time which is still pending at the court.
"So what are you going to discuss? Besides, if Dr. Opuni was going to attend the meeting he couldn't have answered anything apart from referring to the national union to enable him discuss issues that they will want him to discuss," he intimated.
According to him, by way of channel of communication, Dr. Opuni is not accountable to the Minister of Employment and Labour Relations. The Minister of Finance who is abreast with this issue is the one who Dr. Opuni must account to as far as COCOBOD is concerned.
However, if for anything at all they wanted the meeting to be convened, this could have been a meeting between the ICU and the COCOBOD union and not Dr. Opuni in person.
"These issues are arising because of the clash of principles where administrative procedures ought to have been followed by the two mother unions," he stated.
He said they will be submitting individual signed withdrawal forms and membership forms to ICU in an indication that COCOCBOD workers are no longer with ICU as demanded.
He noted that same copies will be posted to the Chief Labour Officer to ascertain its workers decision to withdraw from the two mother unions [ICU and GAWU] has finally ended.
Alhaji Idrisu Hassan indicated that 4000 workers which is made up of majority in the cocoa growing areas have so far signed the union forms.
Alhaji posited that the issue that workers of COCOBOD were demonstrating against Dr. Opuni removal is a total hoax and deceit because it came to light at a press conference organized by the COCOBOD workers in Takoradi that none of their workers were part of the demonstration organized by ICU and GAWU.