EU arms exports to Egypt fuel killings, torture: Amnesty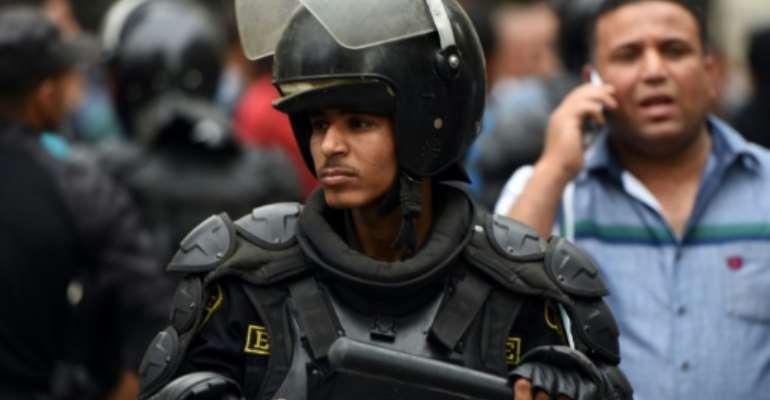 Nicosia (AFP) - Amnesty International has accused nearly half of the European Union's members of fuelling killings and torture among other abuses in Egypt through arms exports, in a report issued on Wednesday.
International organisations have accused Egyptian President Abdel Fattah al-Sisi of running an ultra-authoritarian and repressive regime since he deposed his democratically elected Islamist predecessor Mohamed Morsi in 2013.
In its report, Amnesty said "12 out of 28 EU member states have remained among Egypt's main suppliers of arms and policing equipment".
Amnesty said this flouted an EU-wide suspension on arms transfers to Egypt imposed after hundreds of protesters were killed in what it called a "show of grossly excessive force" in August 2013.
The London-based human rights watchdog said it feared the suspension could be scrapped, even though it was insufficient.
"In 2014 alone, EU states authorised 290 licences for military equipment to Egypt, totalling more than €6 billion ($6.77 billion)," Amnesty said.
Items the EU member states shipped to Egypt included small arms, light weapons and ammunition, armoured vehicles, military helicopters, heavier weapons and surveillance technology.
"The EU should immediately impose an embargo on all transfers of the types of arms and equipment being used by Egypt to commit serious human rights violations," said Brian Wood, head of arms control and human rights at Amnesty.
Amnesty said the human rights situation had deteriorated, with repression remaining "rife" and virtually no accountability".
"Excessive use of force, mass arbitrary arrests, torture, and enforced disappearances having become a part of the security forces' modus operandi," said Magdalena Mughrabi, Amnesty's interim deputy Middle East and North Africa programme director.
- 'Bonanza of arms supplies' -
"EU states transferring arms and policing equipment to Egyptian forces carrying out enforced disappearances, torture and arbitrary arrests on a mass scale are acting recklessly and are risking complicity in these serious violations," she said.
Companies from several EU countries -- including Britain, Germany and Italy -- had also supplied Egypt with "sophisticated equipment or technologies destined for use in state surveillance", it said, citing Privacy International.
Amnesty said it feared they "may be used to suppress peaceful dissent and violate the right to privacy".
It named the nine other countries as Bulgaria, Cyprus, the Czech Republic, France, Hungary, Poland, Romania, Slovakia and Spain.
Amnesty also expressed concerns about a further loosening or discontinuation of the EU suspension, following the US decision last year to resume military aid to Egypt to the tune of $1.3 billion annually.
"The EU should immediately impose an embargo on all transfers of the types of arms and equipment being used by Egypt to commit serious human rights violations," it said.
"The EU and its members must stop rewarding bad behaviour by Egypt's police and military with a bonanza of arms supplies."
Since the army ousted Islamist president Morsi in 2013, authorities have launched a brutal crackdown on his supporters that has seen hundreds killed and tens of thousands jailed.
Secular activists who took part in the 2011 revolt have also been imprisoned.