The Vodafone Unity Cup Match: A stroke of inspiration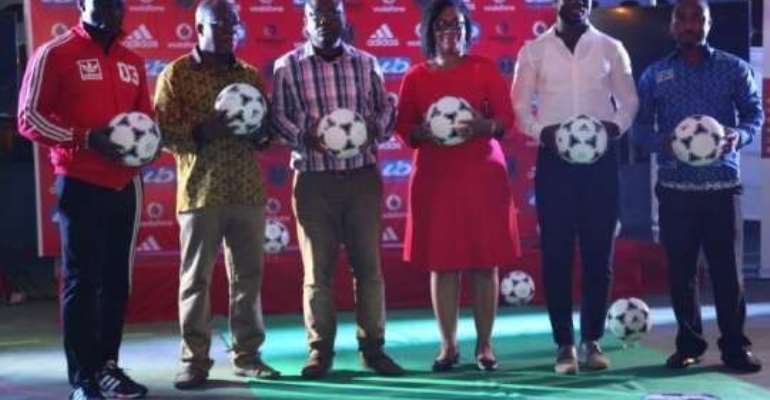 A GNA feature by Emmanuel Asante Attakora
Accra, May 23, GNA - When a collection of football superstars, led by former Black Stars inspirational Captain Stephen Appiah line up, for the two-legged Unity Cup Match in June, Vodafone is one brand that would command top-of-mind awareness.
If the association with football comes as a surprise; it is perfectly understandable. For there is no doubt about it; Vodafone's brand has long acquired an established reputation for being a leader in the music industry.
From the undisputed Vodafone Ghana Music Awards to internally-owned properties such as Vodafone Icons and 020-Live; it may seem that the telecommunications company has cemented its legacy.
With a brand promise that says, 'Power to You'; Vodafone has consistently reminded people that what it has always sought is brand superiority in an industry that delivers products and services at the heart of everyday usage and dependency. Telecom companies in Ghana are constantly under pressure to deliver above and beyond.
The needs of the customer have become an obsession for every company. A certain commitment to the 'service experience' continues to define how industries in the world are responding to the basic requirement of their constituents.
It is what Vodafone's Marketing Director, Agnes Emefa-Essah calls, 'a customer-centric focus'.
So why football?
The answer lies in being in tune with what the people are passionate about. Companies stand the risk of going extinct until they are able to devise innovative ways of staying relevant to their customers.
Marketers have the daunting task of gauging their relevance in the eyes of their customers. Key questions such as, 'What new things are customers growing accustomed to?' and 'How can we make our offerings appealing to the new mass of people that we want to attract and retain?' need to be asked consistently; for that is how a company could win in the market place - especially in a very competitive telecoms space like Ghana.
Football as a passion for Ghanaians has never been in doubt. Just like music, it is intrinsic to the very fabric of the Ghanaian populace and Vodafone's customers as well.
It is this factor that led Vodafone to enter into an agreement with the former captain of the Black Stars, Stephen Appiah, who helped the senior national team to its first ever World Cup in Germany 2006 and Primeval Media Consult to organise the Unity Cup Match.
Riding on the back of a united Ghana and leveraging on Appiah's relationship with celebrated footballers worldwide, the event would use the power and passion football evokes amongst Ghanaians to create affinity for the Vodafone brand and the sport.
Already the Ghana Football Association and the Professional Football Association of Ghana have given their endorsement to the concept and the stage is set for a celebration that should surely resonate across the country.
Renowned international football stars such as Edgar Davids, Sol Campbell, Jimmy Floyd Hasselbaink, Patrick Kluivert and Gianfranco Zola, have all confirmed participation for the event, which begins on June 8 at the Kumasi Sports Stadium.
Kumasi Asante Kotoko would host the Stephen Appiah XI of World Stars in that game before the Black Stars have their turn at the Accra Sports Stadium on June.
A number of activities like soccer clinics and musical concerts have been lined up to precede the two-legged matches to make the entire event a memorable one.
There is no exaggeration about the impact of Vodafone as a telecommunications company of choice in Ghana; however, typical of a high ambition company, it is not resting on its laurels to ensure customers are truly satisfied.
The Vodafone unity match is aimed at promoting peace and unity ahead of the 2016 presidential and parliamentary elections.
GNA