Mahama's 'kaakaamotobi' Economy Scaring Investors; Not Me – Bawumia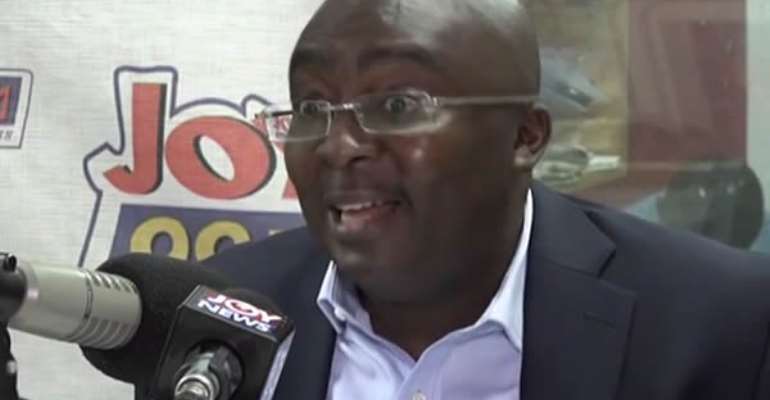 The Vice-Presidential Candidate of the opposition New Patriotic Party (NPP), Dr Mahamudu Bawumia, has rebuffed claims his comments about the economy is driving away investors from the country.
According to him, his many comments about the economy are directed at pointing Ghanaians to the areas of mismanagement and not to dwindle investor's confidence.
Dr Bawumia has for some time questioned the way the governing National Democratic Congress (NDC) is managing the economy.
Recently, he chided the government for transferring some 250 million dollars of the 2014 Eurobond proceeds from the government's account with the Bank of Ghana to a private bank United Bank of Africa (UBA).
He asserted that decision by the Mahama-led government has caused some financial loss to the State and called for the money to be left in the government's account.
This prompted a rebuttal from the government claiming its decision to transfer the money has earned the nation some 23 million dollars which could not have been made had the money been left in the account.
The deputy Finance Minister, Cassiel Ato Forson also accused the running mate of the NPP flagbearer, Nana Akufo-Addo of driving away investors with his all-gloom comments about the Ghanaian economy.
But speaking to some students of the Navrongo Nurses Training College in Navrongo on May 18, Dr Bawumia said it is "The economy the NDC under John Mahama have created [which] is a real scary economy. It is scary if you are a student and worried about getting a job."
According to him, it is also "the incompetence, cluelessness and untruthfulness of the NDC government coupled with unfavourable conditions like high electricity bills and over four years of unstable electricity supply (Dumsor) that is scaring away foreign investors and the donor community."
Touching on the country's programme with the International Monetary Fund (IMF), Dr Bawumia said, "It is your management of this economy that resulted in Ghana seeking an IMF bailout."
He revealed Ghana went for the IMF bailout because "it became largely broke and because it had lost policy credibility."
He explained if you admit you do not have credibility and borrow that from the IMF, you drive investors away.
He blamed the failure of the NDC government to listen to what he termed "wise counsel from experts and the opposition" for the country's economic challenges.