I'm Not Scaring Away Foreign Investors – Bawumia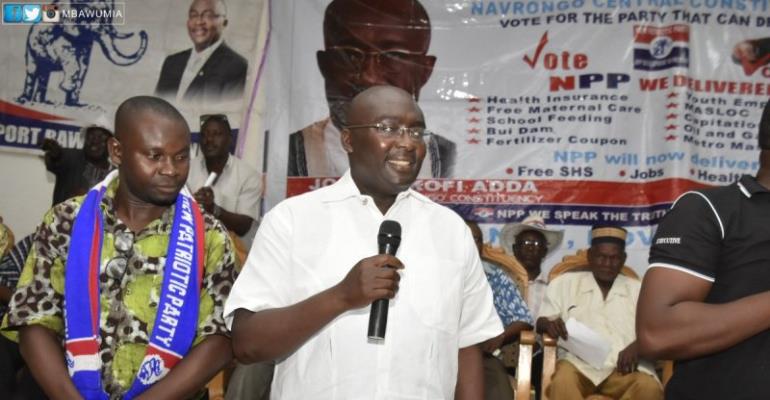 The NPP vice-presidential candidate Dr. Mahamudu Bawumia has denied assertions he is scaring away foreign investors with his comments about the economy.
According to him, the "mismanagement and incompetence of the current NDC government, which has led to the current economic slump and unprecedented hardships", is rather scaring away Ghanaians of all walks of life and foreign investors.
"The Economy the NDC under John Mahama have created is a real scary economy. It is scary if you are a student and worried about getting a job. It is scary for businessmen in this very high tax economy. It is very scary for people who are borrowing and who are incurring very high interest rates on their loans. It is very scary for our nurses, it is very scary for our doctors, it is very scary for our teacher trainees and our teachers. It is in fact what one can describe as a Kaakaamotobi economy. They have scared the living daylight out of all of us", Dr. Bawumia said in an interaction with students of the Navrongo Nurses Training College in Navrongo.
He has therefore laughed off a claim by a government official that his critique of the management of the economy was scaring away investors and pointed out that it is rather the "incompetence, cluelessness and untruthfulness" of the NDC government coupled with unfavourable conditions like high electricity bills and over four years of unstable electricity supply (Dumsor) that is scaring away foreign investors and the donor community.
"I found it very funny when one of the Ministers of Finance said that Dr. Bawumia is scaring away foreign investors. They have scared away domestic investors, teachers, nurses, businessmen, farmers and fishermen etc. It doesn't take me to scare away foreign investors. It is your mismanagement that is scaring away foreign investors."
"It is your mismanagement of this economy that resulted in Ghana seeking an IMF bailout. Ghana went for an IMF bailout because it became largely broke and because it had lost policy credibility. That would scare away any foreign investor, if you admit you don't have credibility and have to borrow credibility from the IMF," he said.
Dr. Bawumia noted that if the government had listened to the wise counsel from experts and the opposition when it started raising issues about the recklessness and mismanagement of the economy, Ghana would not have been in the economic ditch it finds itself in currently.
The interaction with the students of the Navrongo Nurses Training College formed part of the NPP Running Mate's tour of the Upper East region, which has seen him tour the Builsa North and Builsa South constituencies, Binduri, Zebilla, Pusiga and Tempane with a call on people of the region to massively join the 'Change Train' and elect Nana Akufo-Addo as President to salvage Ghanaians from the hardships and crisis the country currently finds itself in on several fronts.