Court complex deserted following JUSAG strike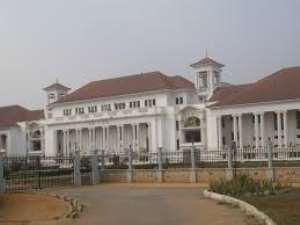 By Joyce Danso, GNA
Accra, May 21, GNA - The National Court Complex was on Friday deserted and all Court rooms locked following an indefinite strike embarked by the Judicial Service Staff Association Ghana (JUSAG).
A visit by the Ghana News Agency to the Complex on the first day of the strike revealed that the normally busy environment was extremely quiet with only security men from JUSAG and other private security personnel at post.
The GNA noticed that the car park was also deserted as only handful of cars were parked at the premises of the court.
Some litigants who were unaware of JUSAG's Industrial Action appeared bemused as they attempted to solicit for information from the Security personnel on duty.
The GNA heard some of them murmuring, while others tried in vain to get an official member of JUSAG to attend to them by offering new dates on which they could return.
A few police men and lawyers were also seen in the morning on the court premises.
Mr Frank Saw, a complainant in a case, said notice for the action was too short as those with business to transact had no knowledge of the strike. 'I came over to the court this morning only to see the place locked and deserted,' he complained.
Mr Saw appealed to the Government to heed to JUSAG's demands so they could resume work.
On May 19 this year, the National Executive Council of JUSAG directed members to withdraw their services with effect from May 20, until the Government implemented the Judicial Council's approved consolidated salaries.
JUSAG said the Government had not fulfilled its assurances after it had appealed to them on April 1, this year, to call off its nation-wide strike.
GNA