MSF worker killed in ambush on convoy in C.African Republic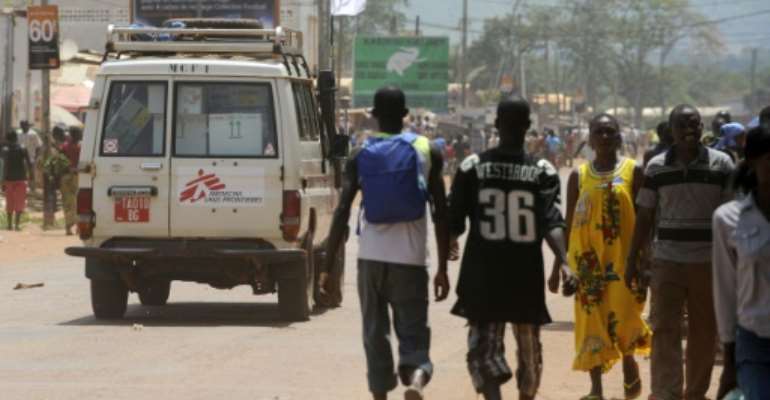 Libreville (AFP) - Doctors Without Borders (MSF) on Thursday said a driver was shot dead in a "violent attack" on a two-car MSF convoy in the northwest of the restive Central African Republic, prompting the medical charity to suspend its activities in the area.
Armed men stopped the "well-identified MSF convoy" and forced staff members and patients out of the cars and on to the ground before robbing them and killing one of the drivers, the group said in a statement.
The incident took place Wednesday in Kouki, some 400 kilometres (250 miles) north of the capital Bangu.
"It is absolutely unacceptable that a team of medical workers and their patients were attacked while returning from providing lifesaving medical care," said Michelle Chouinard, MSF head of mission in CAR.
"It is outrageous that one of our staff members was killed during this act of violence. The MSF team and their patients endured prolonged harassment, including bullets shot close to their heads and repeated verbal threats that they would be killed."
The charity said it was halting its activities in the area "until it receives adequate guarantees for the safety of its staff and the acceptance of its medical and humanitarian activities".
MSF added that it expected "a full inquiry" by police and local authorities into the violence.
Doctors Without Borders, known by its French initials MSF, currently runs 17 projects across the Central African Republic.
The chronically unstable country was plunged into chaos in 2013 when mainly Muslim Seleka rebels ousted president Francois Bozize, triggering a spiral of revenge attacks between the rebels and mainly Christian vigilante groups that left thousands dead and displaced many more.
The bloodletting in one of the world's poorest nations was so serious it triggered a military intervention by former colonial power France and led to the deployment of a UN peacekeeping force.
A peaceful presidential vote held in February was hailed as an important step towards reconciliation in the strife-torn nation.