Corruption Question To Mahama Irrelevant - Akomea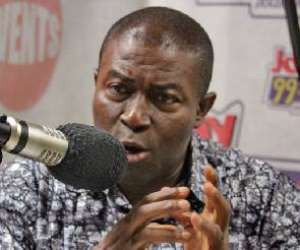 Director of Communications for the opposition New Patriotic Party (NPP), Nana Akomea, has noted that the question on corruption posed by the BBC's Peter Okwoche to President John Dramani Mahama was "irrelevant".
According to him, the president's answer to the question about whether he had ever taken a bribe was predictable and that he was not going to say anything different from his denial.
In an interview with the Ghanaian President on the sidelines of an anti-corruption summit held in London on Thursday May 13, Peter Okwoche asked: "Have you ever accepted a bribe?"
The president's answer was: "No, I haven't taken any bribe." He went further to explain that he could not have accepted a bribe because he was not directly involved in procurement.
But this answer has generated controversy in Ghana as critics believe the president is corrupt. Mr Akomea was certain that should a survey be conducted among Ghanaians on what worried them, corruption would feature among the top three.
Speaking on TV3 network's New Day programme on Saturday May 14, the NPP's Director of Communications said the corrupt within the Mahama administration renders Mr Okwoche's question superfluous.
"I find the question to the president irrelevant" because he was not going to say anything different from what he said.
Nana Akomea, however, said the president's comment that he was not involved in procurement was false. He said available documents to him revealed that the president had been involved in the award of contracts to individuals and institutions.
But a presidential staffer, Kojo Adu-Asare, said he was not surprised at the discussions that had emerged after the president's interview.
"The opposition thinks they can ride on this topic and the interview with the BBC journalists… but it is crumbling".