Mahama Is Not Corrupt – P.C Appiah Ofori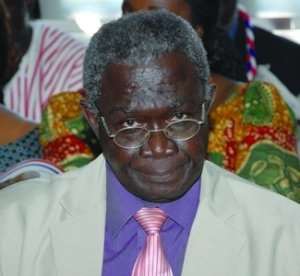 Anti-corruption Campaigner and former New Patriotic Party (NPP) Member of Parliament, P.C Appiah Ofori, has stated that President John Dramani Mahama is not corrupt.
His comments come barely a day after the President boldly stated in a BBC interview on the sidelines of the anti-corruption summit in London, that he has never accepted bribe.
The President's comment has been met with mixed reactions with some suggesting that the President may not have been truthful with his response.
Speaking to Citi News, the former NPP MP, who never shies away from exposing alleged corrupt practices even in his own party, said President Mahama as a person is not corrupt per what he knows about him.
"I must say it with all honesty that he as a person as I know is not corrupt. I can vouch 100% that he is not corrupt…"
Mahama has failed to fight corruption
P.C Appiah was however quick to add that, the President has failed to translate that personal character in tackling corruption in his government.
He said the President has not tackled the canker effectively in his government considering the many corruption scandals including the ones exposed in the Auditor-General's annual reports.
According to the former MP, he has known the President since their days in Parliament, but does not endorse his posture to the fight against corruption.
"Going by the Auditor's General report that has been coming out, covering these areas; the massive fraudulent deals the Public Accounts Committee (PAC) has been hearing I can't say the President has fought corruption, " the former MP for Asikuma –Odoben Brakwa Constituency told Citi News' Duke Opoku Mensah.
I'm fighting corruption better than other regimes – Mahama
P.C Ofori Appiah Ofori's comments follows President Mahama's assertion that his administration has fought corruption than previous regimes.
After boldly declaring to the BBC in an interview that he has never accepted a bribe, President Mahama further stated on Thursday that, unlike his predecessors who felt exposing corruption would bring down their governments; his administration is fighting the canker head-on.
President Mahama, who was speaking to the BBC on the side-lines of the Anti-corruption Summit ongoing in London, said dealing with corruption in Ghana which has a high perception of the canker, is an uphill task.
"You know corruption is not ended. It's a tough fight. We have an uphill battle but we need a partnership of the willing to be able to do it. In a country like ours, you have a heightened perception of corruption because people are able to discuss it more freely but to move the next step where you expose it, investigate and sanction it, then you need evidence to bring it before a judge or something like that; and that's what we are doing. I've the political will to fight corruption".