Mahama Is Putting Money In Ghanaians' Pockets - Spio-Garbrah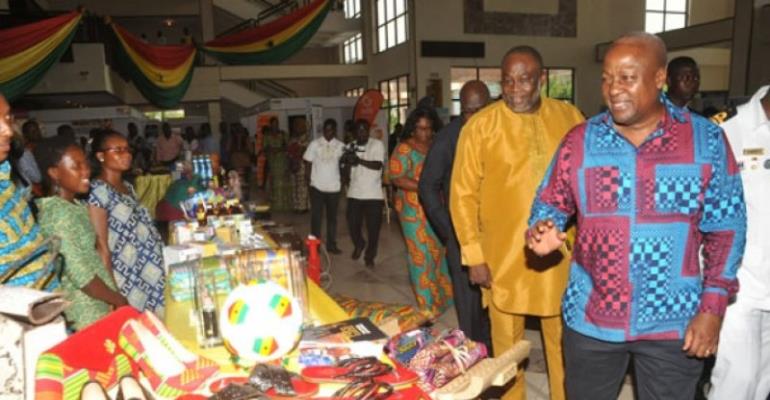 Ghana's minister of Trade and Industry, Dr. Ekwow Spio-Garbrah has said the John Mahama-led administration is putting money in people's pockets, insisting that the President was doing this through several social intervention programmes and skills development initiatives.
He said these programmes have provided economic empowerment to beneficiaries, adding Mahama is putting money into people's pocket through programmes which are enabling Ghanaians to generate income, and making people more economically productive and self-dependent.
Taking his turn at the Meet-the–Press series, Dr. Spio-Garbrah reiterated the President's position that hundreds of thousands of Ghanaians are taking advantage of the economic opportunities created by the government to put money in their pockets.
According to Dr. Spio-Garbrah, through the National Export Promotion Development Programme, over 1,120 horticultural farmers received skills training in good Agricultural Practices and Export Quality Management.
He said 1, 750 groundnut farmers were also trained in the prevention of aflatoxin which has enhanced their competitive advantage into the EU market. Two-Hundred and Forty craftsmen and 714 exporters were also given skills development to enhance their operational activities. A total 946 beneficiaries including 140 graduates have also received skills training through GRATIS technology transfer services support programme and are into gainful businesses.
Dr. Spio-Garbrah also noted that government, through the EDAIF fund, has supported 91 farmers to cultivate 2,645.85 acres of mango plantation. The fund further extended support to the tune of GHC 8.6 million to over 1000 farmers to cultivate about 4,000 acres of cassava with financing to establish three cassava-processing factories to enhance the cassava value chain.
The Minister also mentioned that an amount of GHC 11 million was disbursed as business loans under the Rural Financial Services to support 3, 077 rural Micro and Small Enterprises, with 2,162 of recipients being women.
Beneficiaries, he said, are now in gainful employment in agro-processing, agro-industrial, pre and post-harvest services, carpentry, welding and fabrication, animal and fish farming and traditional craft. Amongst others, the Minister mentioned that government through the National Board for Small Scale Industries (NBSSI) facilitated the organization of 2,800 business development support programmes for 56,224 entrepreneurs.
"All these beneficiaries are taking advantage of the enabling environment and opportunities created by President Mahama so this is what the President means by putting money into people's pockets. They are in gainful employment and the profits made on the loans are going into their pockets," Dr. Spio-Garbrah noted.
"The President cannot go around distributing money to people but through these social interventions, he is putting money into people's pockets. Those who are criticizing government need to understand this; government has created the economic opportunities which are putting money in people's pockets" he stated.