Rawlings condemns Dzifa Attivor; clears Akufo-Addo of tribalism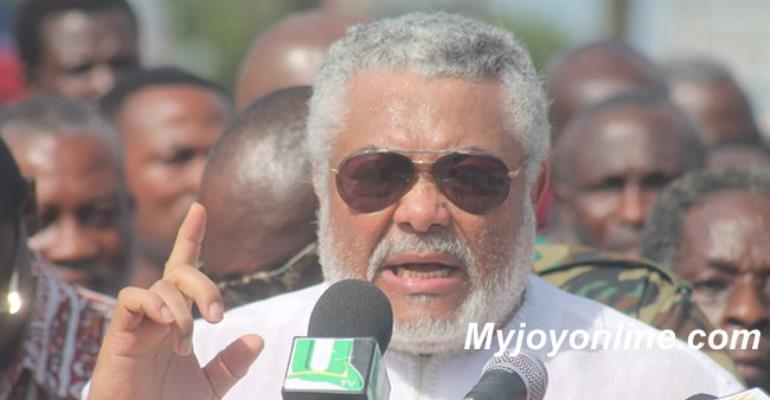 Former President Rawlings has condemned former Transport Minister Dzifa Attivor's comment as distasteful after she whipped up tribal sentiments on a campaign platform.
Jerry Rawlings wants Ghanaians to shun politicians who make "immature pronouncements" as the November general elections beckons.
Dzifa Attivor who was speaking in her party's stronghold, the Volta region called on the grassroots to reject the NPP because the party prosecuted only members her ethnic group, Ewes, during its 8-year hold on power.
Akufo-Addo who began the prosecution of Dan Abodakpi and Victor Serlomey in 2001 is now the presidential candidate of the NPP for the 2016 presidential elections.
Dzifa expressed fears that an NPP regime would continue where it left off by jailing the Volta regional front liners in the NDC.
She asked Voltarians to stay loyal to the NDC and its founder, Jerry John Rawlings.
But the founder has distanced himself from the former Transport minister saying her comments were not factual.
Jerry Rawlings also defended Akufo-Addo as a politician not interested in tribal politics.
STATEMENT ON ETHNOCENTRIC COMMENTS BY DZIFA ATTIVOR
My attention has been drawn to a statement made by a former Minister for Transport, Dzifa Attivor at a political event at Wodoaba in the Volta Region.
I find it distasteful that aside making ethnocentric references accusing the NPP Presidential candidate of being tribalistic, she also insinuated that because I was the Founder of the National Democratic Congress (NDC), the electorate in the Volta Region should vote for the party on that basis.
Before making such unfortunate statements let's remove the logs in our own eyes.
I do not subscribe to the politics of ethnic bias and never have. While I may not be a fan of the NPP, I know their presidential candidate is not tribalistic or ethnocentric. Whatever Nana Addo's shortcomings, tribalism is not one of them. Some known and respected Voltarians like Nutifafa Kuenyehia should be able to testify to his political nature.
As we draw closer to the next Presidential and Parliamentary elections we all as Ghanaians expect ALL PARTIES involved in the process to base their arguments and campaign rhetoric on the truth and desist from emotional and non-factual statements, especially where my name has to be mentioned.
I implore the electorate not to allow immature behaviour and pronouncements to cloud their judgement.
Thank you .
Story by Ghana|myjoyonline.com