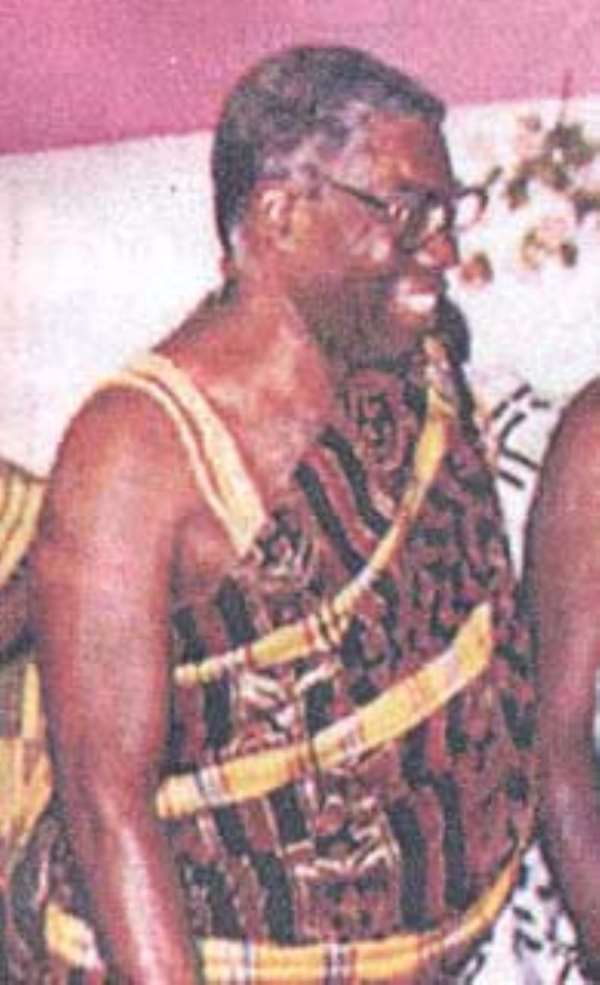 Mpraeso, Dec. 20, GNA - The Omanhene of Kwahu Traditional Area, Daasebre Akuamoah Boateng II, has advised Kwahu citizens to avoid spending huge sums of money on the funeral rites on the dead and use their limited resources to educate their children.
He noted that, "while we cry over our inability to pay school fees and purchase books and uniforms for our wards, we are able to find money to purchase special funeral clothes, expensive coffins, drinks, food and other expensive items for funeral."
Daasebre Boateng, who is also the President of the Kwahu Traditional Council, was addressing an end-of-year meeting of the Council at Mpraeso.
The Omanhene said though there was the need to give fitting burial and funeral rites to their departed relatives and loved ones, they should be mindful of the plight of the living whose interest should be paramount.
He also expressed concern about burying of corpses in private homes, adding that though there were traditional parameters for burying dead bodies in private homes, in the desire of District Assemblies to raise revenue, permits had to granted before the dead could be buried in private homes without consulting the traditional authorities.
Daasebre Boateng urged Kwahu citizens to ensure decent dressing during the Easter festivities since "the way one dresses tells one's character."
He advised all resident citizens in the area to register for the District Mutual Health Insurance Scheme to benefit from affordable health delivery system.
He also expressed concern about the falling standard of education in the area and called on the three district assemblies and the five MPs to ensure the provision of library facilities as well as computers in basic schools in the various communities to enhance the standard of education in the area.
The President of the Kwahu Traditional Council, urged chiefs and opinion leaders to intensify their campaign against the HIV/AIDS pandemic among the youth to reduce the high rate of the spread of the disease among them as they formed the productive population. He commended supporters of the ruling party, all the opposition parties and Electoral Commission for the peaceful Presidential and Parliamentary elections in the country.
The District Chief Executive, Mr Raymond Osafo Djan, said the government had constructed 26 classroom blocks in the Kwahu South and West Districts during its four-year first term, while 22,000 exercise books are to be distributed to all JSS one pupils in the two districts. He said 440 people have been employed in the forestry sector under the government's afforestation programme, while a number of tour guides have been trained to assist tourists who would be visiting the area. Mar Osafo-Djan said a craft village is being constructed to train the youth for the manufacturing of various artefacts for both local and export market.