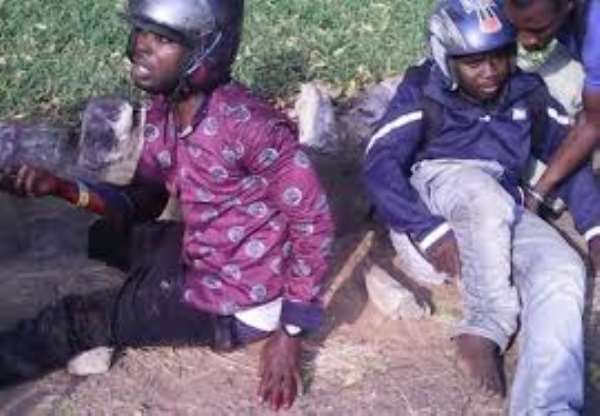 By Maame Agyeiwaa Agyei
([email protected])
Lawyers for the three accused persons who are standing trial for the hatched Koala Marketing Administrator's robbery have ended the cross-examination of the Branch Manager, Mohammed Ali Kadir. The cross-examination took two days, as both defence lawyers questioned him on the robbery incident, which happened on January 19.
According to him, unlike what the defence lawyer said, supervisors are at liberty to move about, so on the day of the incident, the second accused person, Gilbert Osabutey, aka Obolo (A2), who is shop supervisor of Koala Shopping Centre, Cantonments branch, did not obtain any permission from him before stepping out. This was in response to whether he knew why the Supervisor gave him a flimsy excuse just to go out.
He also denied having any idea about whatever the second accused person (the Supervisor) discussed with the prosecution witness, Lydia Horsu, who was the victim of the robbery. The court, presided over by Aboagye Tandoh, adjourned the case to today, to enable the prosecution invite their next witness.
Meanwhile, the two other accomplices who perpetuated the robbery act declined to ask him further questions since they do not know the branch manager and had nothing to do with him.
The accused persons are Michael Edoe Ahiataku aka Old Soldier, a private security guard; Gilbert Osabutey aka Obolo, shop supervisor and Frederick Sedro Kwame aka Fred, a private security guard. Two other accomplices – Stanley Obaliko aka Mohammed Sulemana and Okoe Quarcoe, unemployed, who are still in clutches during court sitting yesterday due to injuries they sustained when a taxi driver knocked them down with his vehicle during the robbery.
Meanwhile two other accomplices are still on the loose on the run and are wanted by the police. The three accused persons allegedly trailed and robbed one Lydia Horsu, a marketing administrator of Koala at Cantoments near the American Embassy. The accused persons on the January 9, 2016, at about 8am, conspired and robbed the victim of her Nokia mobile phone worth GH¢800, a black ladies' bag valued at GH¢200, a Koala ID card, invoices and GH¢100.
Stanley Obaliko, is facing an additional charge of possessing one automatic MAB foreign pistol with number PA151674189, six live 9mm ammunition, and five empty cartridges. Sulemana and Okoe are also standing trial for intentionally and unlawfully causing grievous harm to Lydia. The three have, however, denied the charges levelled against them and are currently on remand.