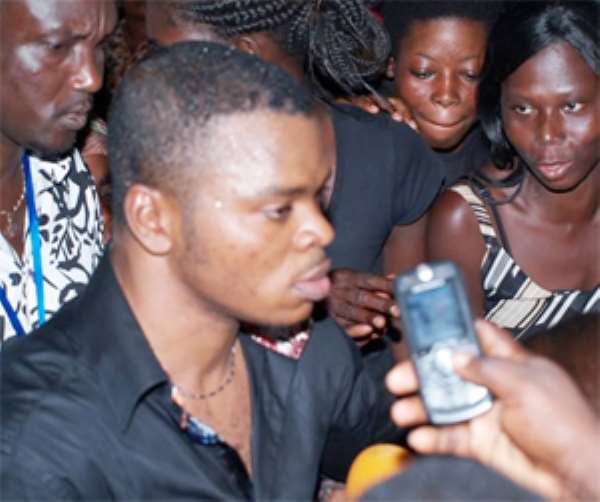 The fetish priest who for some weeks now has waged smear media campaign against the general overseer and founder of the International God's Way Church had a tough time answering probing questions on Nhyira Fm "Asumasem" show hosted by Kofi Jumah Ankwaana.
Okomfo Yaw Appiah whose smear campaign started at an Accra based Happy Fm tried to run away from the studios of Nhyira fm but was forced in studio by the presenter and his producer who insist he answers all question to prove that he is really behind the powers of Bishop Dr Daniel Obinim who is referred to by many as the 'Angel of God'.
The fetish priest on several media platforms had claimed he is the source of the powers of Ghana's popular man of God who perform different kind of miracles which has led to an increase his congregation to a state of one of the churches with large following.
Yaw Appiah who failed to honor a challenge thrown by himself at the Kumasi Jubilee park to expose the man of God but did not appear at the said venue was on the night of 12 April disgraced by his own accounts of events and the presenter who told him in the face, that all he saying about the Man of God were lies. Panel members on the show, that were made of other fetish priests and Men of God unanimously condemn Mr. Yaw and stated his accounts of events were all lies.
"Okomfo Yaw, let me warn you and tell that you are lying! All that you are saying are lies, you can't even tell me the charm you did for the man of God and cannot even tell me the location you did the charm. Let me make it clear to you that we will follow you till you tell us where the charm is!" the presenter fumed".
Okomfo Appiah couldn't even tell where he met Bishop Obinim and what charm was done. Mr. Appiah who started to fumble at this stage tried to run away from the studio and the presenter with his producer forced him back to the studio. He couldn't even answer when bishop started his ministry. He couldn't give direction to Bishop's church.
He said he met bishop in Tema around the year 2000 meanwhile available information shows that Bishop started his ministry in 2000 in Kumasi and at that time has not started his ministry in Tema.
Contrary to the claims by Okomfo Yaw Appiah that he was restricted by the police not to meet Bishop Obinim at the Jubilee park, Kumasi police has also issued a statement they never restricted Okomfo Yaw Appiah's Movement and would have escorted him to Jubilee park if he had wanted to go there !