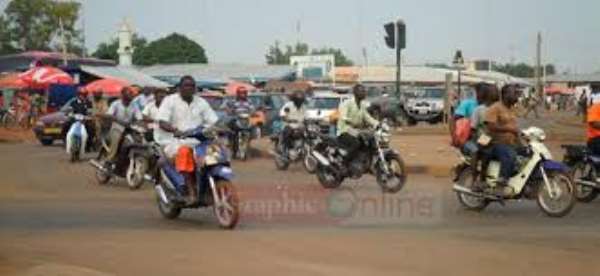 File Photo
Whoever tasted it will continuously yearn for it. I mean the Tamale that we were all proud to be associated with. It has not been that long. I mean that time I shared soap and a bucket of water with my twin sister before heading out for school; the days I cried for hours whenever I was not allowed to break my sister's jaw during our usual fights.
They were the days it was even forbidden for me to hold the hand of my girlfriend in the eyes of others; not because it was disrespectful, but because I was considered immature for that (even at 20+) – all my "ayurmee furmee" was done in darkness. I mean the days "Tamale was Tamale."
I know several other are in nostalgia for that Tamale I am asking for – the Tamale that possessed very talented musicians such as Ahmed Adam, Serena Issah, Abu Sadiq, Mama Rams, Sister Zet, Prince Mahama and Sherif Ghally among others; the musicians who made sense, who loved one another and promoted peace – theirs was a family, so much that, they came together and composed peace songs for dagbong; they were matured enough to know that the success of one does not affect the other, as such they were not fighting; they lived peacefully. That is the Tamale I am asking for; where there weren't "77s" and "tikuli yilimi." They were musicians who made us happy with their morally sound and lesson-rich songs – they had no followers, because they loved one another, and we loved them back: everybody followed them, because we saw the power in unity.
Do you remember the Tamale where our politicians lived peacefully without insults and counter insults after elections? The period of Mustapha Ali Iddrisu, Alhaji Ibrahim Adam and the late Alhaji BA Fuseini among others; do you remember that time? I mean the time there were no urban and city gates (Aduna and Inusah gates). Where our parliamentarians did not even fight their opponents from other parties not to talk about those in theirs; and where politicians worked with their brothers from other constituencies to develop the region – that is exactly the Tamale I am calling for. The Tamale where the youth never demonstrated and destroyed properties because a brother from the same party was appointed to a position that we think he should not occupy; the Tamale that was so united that we were seen as a family divided by nothing than the distances between our homes.
Yes, that Tamale; the Social media free Tamale, the insult free Tamale – when the youth respected the elders and learned from them. The Tamale when we voted and supported people based on their "Hankali" not because of the IPads, smart phones and or the GHC 1,000 we received from them. The youth who lived in the Tamale I am talking about knew the importance of education and worked so hard to be educated. They never lied to destroy one other and create mayhem among families; there was no social media – likes and comments meant nothing to us. We knew that everybody was everybody's brother. So we promoted unity over division. There were no ghost accounts, no fake chats, and no leaks at all. Ours was a united Tamale!
Do you also remember the Tamale where men in other parts of the country ran to in search of wives? Not because it was the only area that produced women, but because the women it produced were not only beautifully covered up in their natural skins, but morally excellent and ready for marriage? I am not talking about the current Tamale of "N nye ngun yen bohi." I mean the Tamale where parents could tell the whereabouts of their daughters at any time with 99.99% certainty. The Tamale when ladies knew the difference between fashion and madness. I am referring to the period when the only add-on on a lady was her dress. Not the current Tamale where seven out of ten women have fake hair, fake nails, fake breast, fake butts, fake eyelids and in fact fake voices. Yes you are right; not the Tamale where some of our sisters have 5 different skin colors.
Ahh hmmm, that period when the ladies could rotate their naturally endowed waists to the sound of Kakpagiyili bihi simpa without fear of their artificial butts falling out. Those ladies whose fingernails were trimmed to a reasonable level because they never thought washing for your husband was for the uncivilized; that was when it was odd to see a lady smoking, and even odder to see a married woman in a near naked dress. In that Tamale, a 3 year old child could tell a married woman from a single one, just by the way the dress; not today's Tamale where some married women compete with the singles for mini-skirts and space to share their breast for public consumption.
I miss that Tamale where ladies joined their mothers in the kitchen to cook for the family; we are fed up of the current Tamale where most women know where every restaurant is located but cannot tell where to buy fresh okro. The Tamale where it was very difficult to see breast and ladies regarded their nakedness as sacred; and never traded them for Facebook likes and comments. Hmmm, it will be sweet to have that Tamale back, where the public will not have to see your woman's nakedness before you do on your wedding night.
Do you remember the Tamale where young guys made it by selling second-hand clothes and dealing in genuine ventures? I mean when there was no Sakawa; the Tamale where stealing was abhorred and families made sure thieves stayed away from their ready-for-marriage daughters. Not this Tamale where the daily schedule of some ladies include looking for no-life Sakawa boys to date; not the current Tamale where we glorify thieves and look down on hard-working people.
So where did our Tamale go? Who stole it from us? What did we do to deserve this rotten Tamale? Can we have our sweet Tamale back? Obviously we can, but it will require hard work and difficult choices. I will help you with the easier ones;
The youth in Tamale need to understand that all regions in Ghana have politicians and musicians who live together happily and work harmoniously to promote their regions. On the part of the politicians, they need to grow up and shame the hypocrites who are on Facebook promoting their division. They need to understand that there is life after politics; and also understand that our region will benefit more from their unity than their disunity.
A marriage between the minister of Employment and Labor Relations (Hon Haruna Iddrisu) and the Roads and Highways Minister (Hon Naa Inusah Fuseini) is a very important one which must be created now without delays. Each of the ministers control the area the other needs so much. Naa Inusah needs jobs for his urban population just as Lawyer Haruna needs roads for his rural areas. If the two of them have the development of Tamale at heart than their individual prides, then they should unite and develop the region. For the youth whose job is to promote the division, haaaaa, I cry for your future. Your deeds shall come looking for you if you don't repent.
To the Musicians, please use your heads to plan how to project your work beyond the north rather than insulting each other on social media. Northern musicians do not succeed as their counterparts from the south because the market for Northern Music is just the north. The only way to break this barrier is through collaboration that will produce innovative and creative music. Instead of you to collaborate and think of how to promote Northern Music, you are there saying "69" and "Tibi johira." For God sake the rapper and the singer should be collaborating for better music – they are never competitors and or enemies. Attend each other's functions and cheer each other up; you will win the respect of serious people through that and break the barriers to the market for Northern music.
To our beautiful ladies, please and please, go back home and talk to your mothers. Their lifestyles might look "colo" to you, but theirs promote the true beauty and value of a woman than we do today. You do not need Mba Yahaya for dinner; help your mom in the kitchen and eat what is prepared for the house. Pizza is junk food in the US; do not sell your dignity for it.
Walking near naked has nothing to do with civilization; otherwise humans would have been worshipping dogs; after all they walk around with their things dangling everywhere – both "man dogs" and "lady dogs". And please ask the guys who like your breast bazars on Facebook as to whether they will be happy to see their ladies look like you. We are very jealous and want some things kept for our consumption only.
To all Tamaleans, please stop the hypocrisy! Call the Sakawa boys what they are – thieves! You are glorifying them by calling them "game boys." Do not clap for them at weddings and insult them at home. You are either with them or you are not. These guys are worse than armed robbers: people kill themselves after discovering that they have been duped by these thieves. Imagine one of them comes across your sister who is abroad and is the breadwinner of your entire family – how will you feel if they "finish her" like they are finishing others? Will you consider it game and call them game boys? We need to agree that they are thieves and treat them as such; until then, we all need to pray that our next children will not be joining the thieves union.
I know you miss the old Tamale, just as I do. I know you will want that Tamale back; where our chiefs maintained the dignity of the skins; where our musicians united and composed peace-songs to unite dagbong; where ladies knew their value and jealously protected it; where stealing was stealing, no matter the method used; where "biha mini gbuna" were very difficult to see; where the youth refused to sell their bargaining power for Ipads, smart phones and few cedis; and where our politicians lived happily and worked towards the development of the city. Whoever has it should bring back our Tamale; say with me that we shall pay any amount to get back our Tamale!! Please bring back our Tamale.
Abubakari Sadiq Iddrisu
Assurance/Audit Staff, Ernst and Young LLP, NY.
Certified Public Accountant, NY, USA.
Member, American Institute of Certified Public Accountants.
MBA Public Accounting, Iona College, NY.
B. A Economics, Lehman College, NY.