Re: NDC USA Disowns Lawrence Appiah And His Friends Of Mahama Group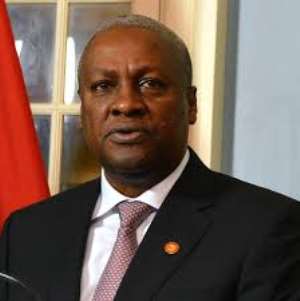 The publication in your esteemed medium with the heading "NDC USA Disowns Lawrence Appiah and his Friends of Mahama Group" did not come as a surprise to we the executives and the entire membership of this noble group. This is not the first time. It would be recalled that before the inauguration of this group last year, some of the executives did everything to stop its formation.
They forwarded a letter authored by Dr. Karl Arhin, the deputy Director of international relations of the party for a different purpose and presented it as if it was meant for Friends of JDM. Are we surprise that they are purporting to be speaking on the orders of NDC Accra?
Initially, we decided to ignore the publication with the contempt it deserves. However, as a sign of respect for the general public (not to dignify the publication) we decided to give the general public the facts for them to make their own judgment.
First of all, it is interesting that the author of the above publication recognized the fact that the flagbearer of the NDC which they represent as executives here in USA, is also the president of Ghana and not NDC alone. Except that one is fallaciously assuming that before one qualifies to be a friend of the president, s/he must seek the permission and approval of the party on whose ticket he won the election or must of necessity be a member of NDC. Again, if the author of this article has been observing president John Mahama closely, he would have noticed the humility and the respect the president commands across the political divides. Most Ghanaians are dying to relate, one way or the other to him.
It is in line with these excellent characteristics of our president, that Ghanaians in the diaspora are willing to support the president's re-election bid without necessarily being members of NDC. This objective is being pursued in diverse ways. Besides the financial commitments members are making to support the president, they also expending their time to appear on all radio stations in both home and diaspora defending the president and his government's policies and programs. The diaspora media landscape which hitherto was occupied by NPP spokespersons has completely changed in favor of NDC. Curtesy Friends of JDM communication team.
In relation to the 'advice' by the NDC USA secretariat to the effect that anybody who contributes money towards this laudable project does so at his or her own risk, the members of Friends of JDM are very grateful. However, if really they are politicians as they claimed, they would have come to the conclusion that politics, which is seeking the mandate of people to lead, itself is full of risk. Members of this group are fully aware that the risk of looking up to them (NDC USA executives) and not doing anything to support the president to continue his pragmatic "Transforming Ghana, Changing Life" agenda is more disastrous than the 'risk' they are warning against.
Since we are in the era of advice, the members of this group would also humbly appeal to some of the NDC USA executives to prone their overgrown ego and rather seek to unite members of the great umbrella in this country. A leader need not know it all. But a good leader only has to be able to identify and harness the talents and capabilities of his or her followers. At this period when political activity is at its crescendo, members of NDC USA are rather waiting and calling on their leaders to be giving them directives, forming strong communication team and mobilizing support for the mother party back home. NDC USA executives should rather be occupying themselves with how to change the negative perception about this chapter in Accra. We all saw and read with envy the number of ministers and party bigwigs that attended the inauguration of a branch in UK. Can we boost of similar zeal when it comes to our activities here? Instead of rushing to meet and take pictures with party officials whenever they are in town, just to post on the social media, let us redirect our effort to position the chapter as a strategic powerhouse to Accra. After all, NDC USA is the biggest chapter yet it's the least when it comes supporting Accra. A lot of members are willing to support the course of the party but are looking and waiting for effective and efficient leadership.
The tone and the timing of this publication, clearly pointed at only one purpose; to frustrate the fundraising scheduled for Saturday April 16, 2016. Once again, all indications show that you will fail as you failed during the inauguration last year. The party and government officials billed to attend this all important program will be arriving as early as Monday. We are therefore, by this rejoinder, again, officially inviting all of NDC USA executives, entire membership of NDC USA and well-wishers of Friends of John Dramani Mahama to our fundraising. President John Dramani Mahama has achieved a lot and we need him to continue for the next four years. We cannot fathom any good reason why anybody will want to kill a great venture except that we are against the president's re-election bid, at least not from NDC USA executives. We only hope that the author of this article has no personal bones to pick with the president.
Long Live Friends of JDM
Long Live President Mahama
Long Live NDC
Long Live Ghana
Eye Zu, Eye Za
Signed

Justice Tettey
+Friends of JDM
USA.