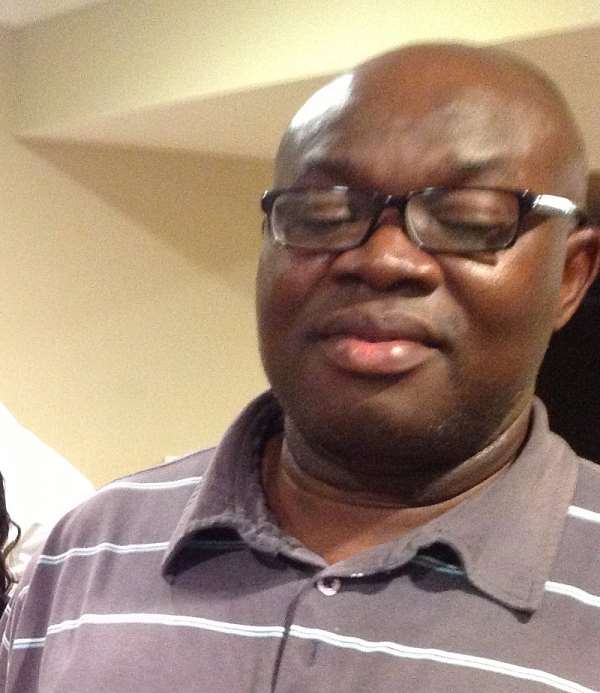 Dr. Lawrence Appiah-Osei
I just read on your website that I have been suspended from the NDC by the NDC USA with immediate effect. One of the reasons given for my suspension was that my group, Friends of John Dramani Mahama (USA Chapter) has undermined the leadership of the party and activities in the United States.
The fact of the matter is that the NDC USA has undermined its own leadership and therefore non-performing. The current leadership under Chairman Nii Ashiboi Armah and Secretary Charles Kpodzo, inherited about 31 NDC USA branches but now, they are currently holding onto 3 branches; Massachusetts, Washington DC, California and some parts of New York.
The other reason for my suspension was that I am spearheading a group called Friends of John Dramani Mahama to raise funds from the public without permission. The fact of the matter is the group with all the required permission is yet to raise funds. We have slated April 16, 2016 as our fund raising date. Now, let me tell you the secret for my suspension.
Friends of John Dramani Mahama (USA Chapter) was born in January 2015 and was inaugurated on April 25, 2015 with a membership of 25. Today, we are over 150 members and counting. We have a 30-member Communication team that goes on radio stations all over United States, Europe and Ghana to sell the good news of the changing lives and transforming Ghana agenda of President John Dramani Mahama. We have 11-member Executive Board and two patrons, one of which is a former Ghana's Ambassador to the United States. We meet on the first Sunday of every month. We don't collect dues. Whenever a radio presenter needs someone to represent NDC on his/her political show, I am the one they call. Dr. Lawrence is a household name in the US. Meanwhile, I am not the Chairman of NDC USA.
As Nii Ashiboi Armah and Charles Kpodzo wrote to suspend me, I thought they were going to talk about their achievements since taking office 4 years ago. So far, the best record they have is reducing the branches they inherited from 31 to 3, they did a fund raising event in Washington DC and incurred a loss of $5,000.00 and all over the world, they have a record as the most non-performing Chapter.
They have never called a functional Executive meeting and the regular Executive meeting they have had, had always ended in a fight. Charles Kpodzo, the Chairman of the NDC Washington Branch, wanted a position in Friends of JDM as a Co-Chairman and since our Bye-law did not permit that, he decided to go wild on the group. Compare the record of Friends of JDM and NDC USA. Now, you see the secret for my suspension? Skin pain!
As I stated earlier, Friends of JDM is having our first fund raising on April 16, 2016 and you are invited. The group remains strong and united than ever before. I still remain a member of the NDC and I will continue to lead Friends of JDM (USA) until the next elections are held. We remain focused and nothing is going to slow this movement from achieving its goal. That is, to help with the re-election of President John Dramani Mahama for another 4 years. JM Toaso!
Lawrence Appiah-osei
Chairman
Friends of John Dramani Mahama (USA Chapter)