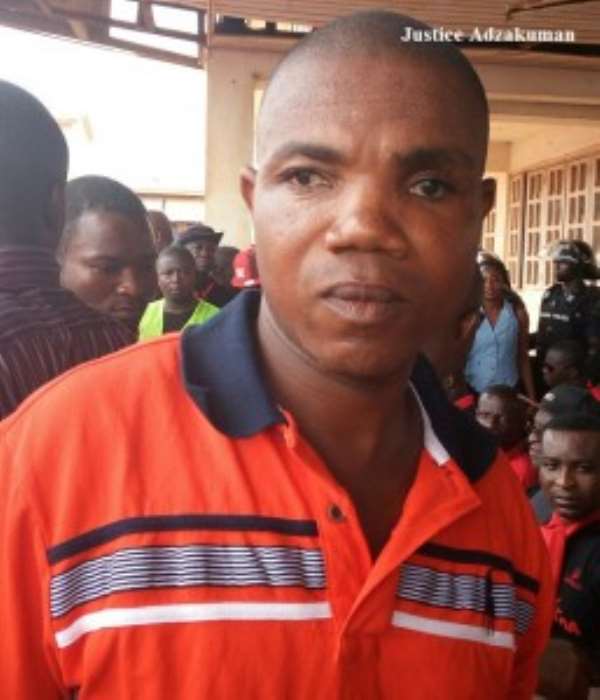 From Issah Alhassan, Kumasi
JUSTICE ADJEKUMA, the young man who was brutally assaulted by the Police last year when the group, Let My Votes Count (LMVC) organized a demonstration in Accra, made a surprise appearance in Kumasi yesterday.
Adjekuma, who lost his left eye after being brutally assaulted by security men detailed to maintain law and order, once again joined the demonstration in Kumasi to demand a credible register. The Ewe-born NPP sympathiser miraculously survived the bizarre incident last year, after being hit by a police bullet during a demonstration organized by the Let My Vote Count Alliance in Accra in demand for a new voter's resister.
Wearing an artificial eye, Adjekuma made a passionate appeal to Ghanaians and supporters of the opposition party to continue to fight tooth and nail in ensuring a credible register. He stated that he has been emboldened by the misfortune, adding that he has never regretted participating in the march, which led to his losing the left eye under bizarre circumstances.
According to him, he has strong faith in the NPP and Nana Akufo Addo as the only hope for Ghanaians, adding that the NDC and President Mahama have impoverished Ghanaians to the hilt.
"I have never lost hope in my conviction that the NPP is the only party that can turn the country's fortune around, the NDC have been a disappointment to Ghanaians, more especially to my people in the Volta Region, who have always voted for them.  "This time round they are all calling for change and this change will happen no matter what, in November 7," he predicted.