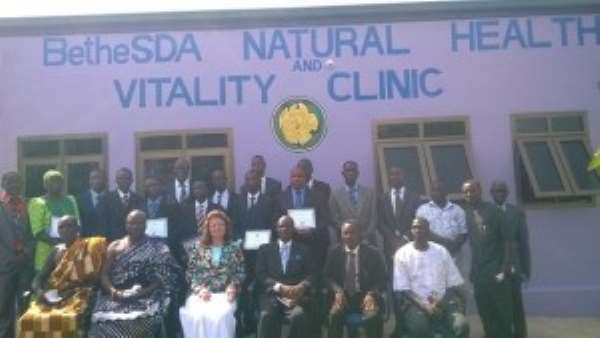 Pastors have been urged to desist from deceiving their flock with fake miracles but rather strive for peace and salvation for them.
Dr. B.D. Nuako, Director of Prince Emmanuel Sanatorium and Clinic said this on the occasion of the fourth graduation ceremony of students who have completed their studies at Bethel SDA Center of Evangelism and Bible School at Anomawobi in the Central Region.
The ceremony also marked the commissioning of GH¢180,000 clinic built by the Center to provide medical facility to the people of Anomawobi and its environs. Dr. Nuako deplored the unholy behaviour of some pastors who use the Bible to preach prosperity instead of salvation.
The Bible tells us to seek first the kingdom of God and all other things shall be added unto us. I am happy that you graduates have abandoned everything to seek the kingdom of God which is eternal salvation. I, therefore, advise you to be genuine pastors who will seek the interest and welfare of your flock. Be truthful, upright and righteous" he said.
Dr. Nuako exhorted the 12 graduates who come from Ghana, Togo, Kenya and Malawi to use the knowledge they have acquired to go out and proclaim the Good News and also teach how to be spiritually fruitful and physically sound. "As pastors, remember that our saviour Jesus Christ has called every Christian to go out and preach the gospel of love, mercy and reconciliation. You are, therefore, challenged to declare Christ without delay!"
He admonished the graduates not to boast with their certificates but endeavour to pray unceasingly so that the Lord would open their eyes and minds to understand the Bible very well. Dr. Nuako said if pastors would succeed in their ministry then they must be prayerful, obedient, faithful and holy.  "If you arm yourself with these spiritual arsenals, then I can assure you that victory will be yours.
"Find time to teach and explain the Bible as Jesus Christ did to his disciples and his followers!" Touching on the November 7 elections, Dr. Nuako appealed to the electorate not to mortgage their conscience by accepting gifts and money from political parties to vote for them.  He appealed to the Electoral Commission and the National Commission for Civic Education (NCCE) to intensify education on the election.
"Ghanaians must bear in mind that we are one people, one nation and with one destiny. We should never allow politics to divide us, but rather unite us." Commissioning the clinic, Dr. Nuako thanked the proprietors of BetheSDA Center of Evangelism for constructing the clinic at Anomawobi, which will serve them in particular and the people in the Central Region in general.
In her address, the director of BetheSDA Center of Evangelism and Bible Training school, Mrs. Sharna Welty charged the graduates to take on the character of Jesus Christ, who though was equal with God humbled himself and became a servant of man.  "Avoid all vain glory, pride, arrogance and selfishness. Never set your vision on money, vehicles, houses etc. as others do. Rely on Jesus Christ and Him alone and then God will see that all these things shall be added unto you."
Mrs. Welty disclosed that a Senior High School would be built at Anomawobi as well as a church at Gomoa Fete. She thanked the chief of Anomawobi and his elders for providing them with land for the construction of the Center and the clinic. Mrs. Welty congratulated Ghanaians for their 59th independence anniversary and urged them to unite to move the nation forward.
The chief of Bawjiase, Nai Kwaku Osuadu ll urged the graduates to visit every nook and cranny to preach the gospel. He also appealed to the people of Anomawobi and nearby villages to visit the clinic regularly for medical examination.