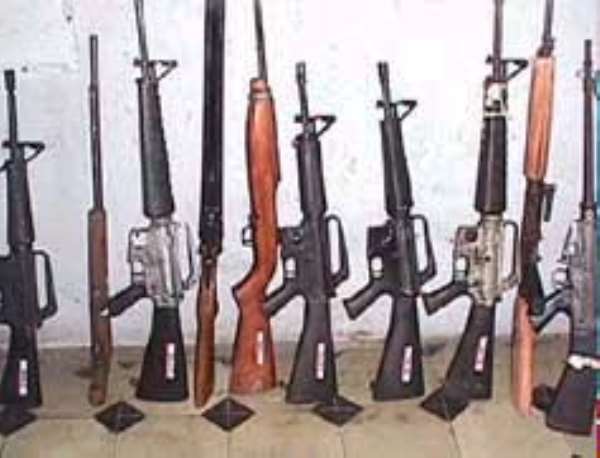 In the government's attempt to restore peace and unity in the region after the elections, the military and the police officers have been deployed to massively patrol the region to arrest criminals and retrieve other dangerous weapons that have the potential of disturbing the peace process of the country.
Meanwhile, the Northern Regional Police Command, as part of their contribution to get rid of all small arms and other dangerous weapons in the region, on Saturday retrieved some locally manufactured ammunition at Sakasaka in the Tamale Metropolis. The weapons, consisting of two-single barrel locally manufactured guns and one Mark-4 rifle with eight rounds of live ammunition, were reported to have been found in an old sack in the backyard garden of the area.
This was disclosed by police intelligence sources to Fiila FM immediately after the operation. Speaking to newsmen, the Police Commander, ACP Oko Brakatu congratulated his men for their immense effort before, during and after the elections to restore peace in the region. He expressed regret over the actions and inactions of some people in Dagbon, which normally resulted in disintegration among the people.
He, however, noted that finding the weapons was the outcome of intensive operation mounted by the security agents in the area due to the recent firing incident and attack on personnel in the area.
He hinted that the security would intensify its operations to ensure total peace and security in the region. Mr. Brakatu declared the police's commitment to managing crisis, good governance and political affairs in the region saying, they were now well equipped to handle various degrees of crises in their areas of operation.
The commander lamented the shooting incidence in some parts of the region during the elections, leaving a number of people dead. He described this as an unfortunate and appealed to the people of Dagbon to desist from activities that may, one way or the other, bring untold misery to this part of the country. Noting that the region was still mourning many who had lost their lives in the past, he called on the public to cooperate with the security agencies by reporting any suspicious elements or persons suspected to be threatening the peace process in the metropolis, to the police.
He stated that the police would not hesitate to deal with such suspects and advised the public to desist from lawlessness and hatred and, instead, help the security agents promote peace to ensure total security for all. The commander echoed that the police would help create a conducive atmosphere to enhance freedom for all Ghanaians to enable them go about their normal activities without fear.