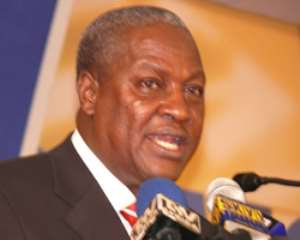 Dear Mr. President, This is one of your most loyal supporters writing to you all the way from the Empire State (New York). I hope everything is going on well at the palace? Please say hi to the first lady and everyone in the first house for me. We are so proud of you and the efforts you are taking to put Ghana among the countries to watch. May God help you on that adventure.
Your Excellency, today I am not writing to praise you as I usually do on Facebook; I am more than angry this time round – and trust me I did not lose my last 1 Ghana cedi. I will try as much as I can to say what I want to say without being overpowered by the anger in me. So help me God. My anger is sparked by nothing more than Ghana's inability to produce passports on time and escalates when I remember that they don't even know when things shall normalize. I know in 8 out of 10 instances, we don't really do things on time, but sir, this situation is shameful, insane and for the first time, and to agree with the elephant family, incompetence at the highest level; not on your part though, but on the part of Ghana, well you are the president and commander in chief, so you might not be far from this.
Sir, I have some few questions for you and would be glad if you could help me with that: Question1: Please are you aware that the wait time for one to obtain a passport in Ghana, including at the various embassies abroad is about a year and or indefinite? Yes Sir I mean a year or indefinite!! People who applied for passports since June last year are yet to receive them and some offices say nothing than apologies for their incompetence. Question2: Please ooo, I just want to know, don't you think Ghanaians deserve an explanation as to why this is happening? Is it as a result of dumsor, or the machines to produce the passports are dead? I really cannot wrap my head around this issue. It seems so confusing and cannot be explained beyond incompetence on the part of whoever you have placed in charge of that area. My final question, Mr. President, do you know the effect of what is happening on the economic and socio-political lives of Ghanaians? Well I will tell you; maybe because of your busy schedule you have not given it a thought.
To begin with, imagine a Ghanaian business man who cannot travel outside the country to transact business because of a passport that needs renewal. With the current wait time of a year, it means he has to forget of whatever business he needs to transact until, if he is lucky, one year time. He will lose loyal customers, lost income, his family will lose their source of livelihood, people employed by him will lose their jobs and their families will lose their source of livelihood as well; no revenue means no taxes, and as such, the government will lose source of revenue. Sir for God sake, do you see the chain effect of this issue nobody cares about? Have you seen what incompetence in one sector can do? Hmmmm!!
Secondly, Your Excellency, there are several Ghanaians who are exploring different avenues to continue their education outside the country. So imagine someone who is just months away from getting into his dream school having to lose that opportunity because you kept an incompetent person in charge of issuing a document every rightful Ghanaian is entitled to. Sir, most of the people who man the affairs of Ghana today had their education abroad. The knowledge that such people bring back cannot be underestimated in Ghana's search for development theories and action plans. So by the action of that incompetent person in charge of passports, an individual loses a dream school, Ghana loses a resource and our development is deprived of one more advanced thinking head; waaa look, you see our lives??
Thirdly, Mr. President, there are thousands of Ghanaians outside the country who are far away from their wives and kids just like me – I mean those suffering from lack of vitamin wives due to the decision to seek greener pastures away from home. These people have been following the authorities of their new homes to permit them to reunite with their families. Because of this lack of vitamin wives, we sleep like dirty clothes that are packed and readied for the laundry when the temperature reaches ear-freezing levels. Please sir, how will you feel if you discover that a man who struggled for 5 years to get his family to cross the oceans to his new home is losing that opportunity because of the gargantuan incompetency on the part of someone you can easily replace or a problem you can easily fix? The last time, I read an article that nearly sent me to the Bronx Lebanon hospital that smiles at the grand concourse and the roaring cars that climb it like baby monkeys in the jungle; well I did not, but the bucket of fufu I consumed that day disappeared. The article came with a video in which angry passport applicants mentioned that workers at the passport office had misplaced their bio-details. Koi Mr. Dr. Mahama! Misplaced personal information paa? In this era of modernization, Ghana is still using Museum species in processing passports? Ahh hmmm, what is even our crime?
Sir, permit me to compare a bit; in the US here, there is an express passport service that takes 2 weeks or less. And there is an emergency one where you can walk to the office and come out with a passport in hand, if you can justify the need for that. Why can't we fix this issue once and for all? Your Excellency, the incompetence on the part of your employees is breaking marriages, closing businesses and denying families the opportunity to reunite again after years. As a matter of fact there is no excuse for this, it is gross incompetence. Kaashirigu!!
As someone who has constantly maintained that I want to return home and contribute my part to the development of a nation that gave me more than any country can, nothing scares me away from home than the weaknesses in our essential institutions. The truth is that when you get use to where people do what they are required to do without even requesting for a thank you, you find it hard to accept people who want you to beg and bribe them to do what they are paid to do; such breaks my heart and tears me apart. We don't deserve this as citizens, we did nothing wrong to merit this treatment from people who live on our taxes. That is unfair; Please sir God does not like this ohhhhh!!
To conclude, please tell the boys not to run radio/TV stations to explain; please fix this. There is nothing much in processing passports than capturing the information, doing your confirmation of details, and printing the booklets. If the machines are dead, replace them, and do it now. This does not need a committee – just do it! It is "penned-robbery" to continue paying the people in charge of this task when they are doing nothing. Ahhh, Ewurade! Fine! Naawuni nyeya. Okay bye!
Your Disappointed Supporter, Abubakari Sadiq Iddrisu Assurance/Audit Staff, Ernst and Young LLP, NY.
Certified Public Accountant, NY, USA. Member, American Institute of Certified Public Accountants.
MBA Public Accounting, Iona College, NY. B. A Economics, Lehman College, NY.