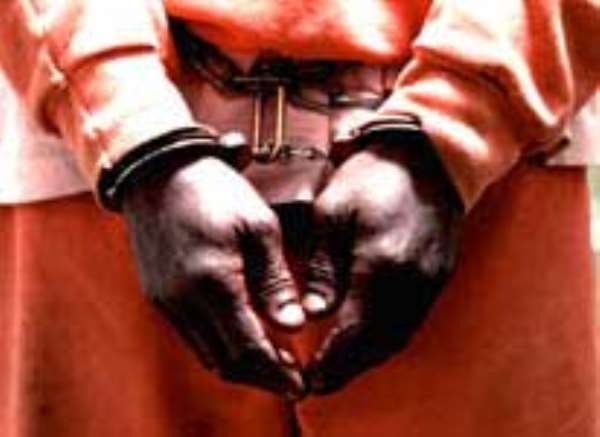 Graphic -- The Criminal Investigations Department (CID) has arrested five men who allegedly duped a Taiwanese businessman of $95,500 on the pretext of supplying him with gold.
They are Moses Kwame Offei, alias Kwame Annas Offei,41, leader of the group, Nana Owusu Agyemang, 43, Kwabena Aidoo, 45, Osei Baffour Agyemang, 56 and Benjamin Mensah.
The Deputy Director of the CID, Assistant Commissioner of Police (ACOP) Patrick Ampewuah, said the complainant, Mr Steve Chen Siang Ruei from Taiwan, first visited the country in November 2003. He said in July, this year, he was contacted by Oduro Mensah via the Internet that he had in his possession a quantity of alluvial gold for sale and he expressed interest.
He said Steve then flew to Ghana and was met on arrival by Oduro, who introduced him to Nana Agyemang and the two later took him to Tarkwa and showed him a parcel of land which they claimed was their concession. Mr Ampewuah said they were able to convince him that they owned a mining company in Accra where they processed the gold and could supply any amount of gold he needed.
After that, Ruei returned to Taiwan and invited Oduro to come over with a sample of the gold which he did and that won his confidence. On his return, Oduro promised to ship 50kg of gold and gave Ruei the account number of Moses Ofei for him to transfer the money into, which he did.
The deputy director said after the transfer, he waited for a month for the arrival of the consignment and when it was not forthcoming he called Nana Agyemang who said his licence had expired so he needed $3,000 to renew it. Ruei readily sent the money to him and they accordingly sent him a parcel but to his dismay, when he opened the parcel it contained handicrafts.
At this stage, Ruei realised that he had been duped by the people so he returned to Ghana and lodged a complaint with the police who traced the suspects to their hideouts and arrested them. The police also impounded a brand new Toyota Land Cruiser belonging to one of the suspects