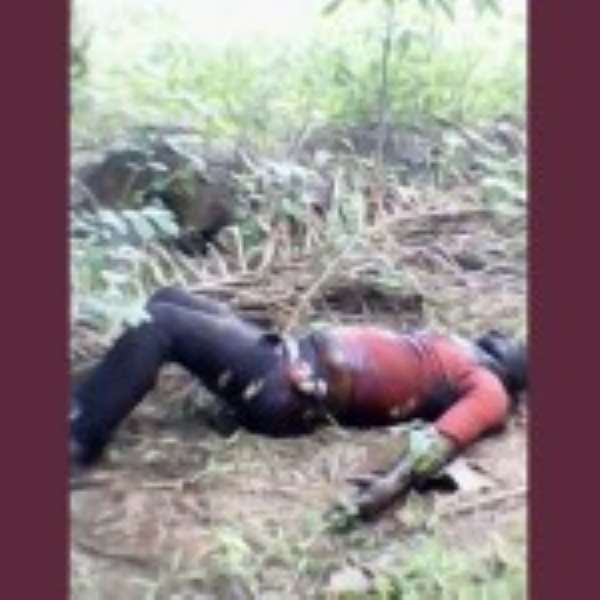 Kwadwo Ankrah's bloated body lying in the farm

THE DISCOVERY of a dead body on a farm on Tuesday has sparked confusion among residents of Sepase in the Atwima Nwabiagya District, who are sharply divided over what should be done with the corpse.
Section of residents in the town suggested that the bloated body, which is almost decomposed, should be buried in the farm where it was recovered to avert health implications, but the traditional authorities had strongly objected to it.
The chiefs, reportedly, stressed that the dead man, identified as Kwadwo Ankrah, who is in his mid 30s, a resident of Sepase until his shocking demise, should rather be buried at the cemetery in the town.
The impasse reportedly started on the morning of Tuesday and lingered on to the evening when the people left to their various homes, leaving behind the rotten body, which was emanating bad stench.
Nana Asare Bediako aka 'Obama,' DCE of Atwima Nwabiagya, told DAILY GUIDE that his office was liaising with the chiefs and the residents of the town in order to find lasting solution to the deadlock latest by the close of Wednesday.
.
In the meantime, he disclosed that the environmental and health department in the district had sprayed some chemicals on the dead body in order to reduce the bad odour and prevent possible spread of diseases.
Obama assured that latest by the close of Wednesday an agreement would be reached as to where the dead body should be buried, indicating that the body had bloated and could even burst when touched.
Kingsley Berko, a close friend of the deceased, said Kwadwo Ankrah left the house on Thursday to attend to nature's call but he didn't return again until his dead body was discovered in the farm on Tuesday morning.
According to him, Kwadwo Ankrah did not show any sign of illness prior to his surprise passing to eternity, noting that his death had come as a major heartbreak for the entire people of Sepase.
Evelyn Danso, a cousin of the deceased, indicated that scores of curious people rushed to the scene when the body was found, adding that the body was emanating a bad stench, which could have health implications for the people.
FROM I.F. Joe Awuah Jnr., Kumasi