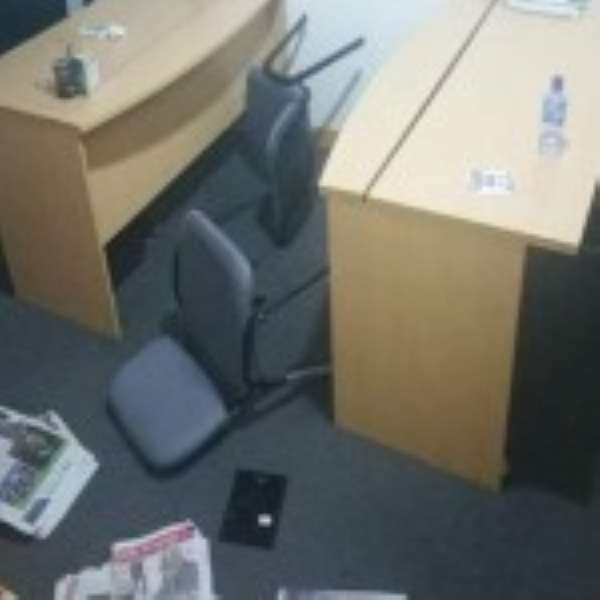 Personnel believed to be drawn from the Ghana Police Service and the Bureau of National Investigations (BNI) on Thursday evening raided the office of the Danquah Institute in Accra.
A Deputy Director of Communications for the New Patriotic Party, Perry Okudzeto told Citi News that they included a Police officer in uniform and six others in mufti. He narrated that when the security operatives got to the place they ordered the caretaker to open the gate which he refused.

According to him, they then jumped the wall and entered the premises adding that the caretaker sensing danger took to his heels. Mr Okudzeto said the security operatives forcefully opened the office of the Danquah Institute and ransacked the place.

The NPP's Deputy Director of Communications said the security operatives also took to their heels when they heard that people were coming to the place. He said the party is taking stock of their documents and would make an official complaint to the Police. The Danquah Institute was formed in January 2008 and after Dr. Joseph Boakye Danquah, one of the founders of Ghana's first political party the United Gold Coast Convention, which has transformed into the New Patriotic Party. The institute is aimed at serving as an advocacy body for improving Ghana's electoral processes. 3 SA security trainers in BNI custody The raid comes on the back of the arrest of the three South African ex-Police officers in the country for training private security personnel for the opposition New Patriotic Party's Presidential Candidate.

The three who were arrested on Sunday included Major Ahmed Shaik Hazis (rtd), 54; Warrant Officer Denver Dwayhe, 33, and Captain Mlungiseli Jokani, 45 and have been charged with conspiracy to commit crime and unlawful training. The Head of Nana Addo's security team Captain (rtd) Edmund Koda and the owner of the EL-Capitano Hotel Captain (rtd) Acquah were also arrested and  charged but the state has dropped the charges against them. We did no wrong  The NPP had insisted that they committed no crime by engaging the services of the former South African security operatives. Perry Okudzeto had earlier told Citi News that the growing popularity of their flagbearer and his running mate meant that they needed proper protection "The continuous popularity of our Flagbearer and running mate requires that our security detail is trained on how to handle crowd and are trained on crowd control techniques and that is simply what this is about. So it's a licensed Ghanaian security company training our people with the help of consultants from South Africa" Mr. Okudzeto explained. Mr. Okudzeto stressed that the men were not being trained in weapon handling and that the alarm being created was needless.
-citifmonline